Bike-share rules released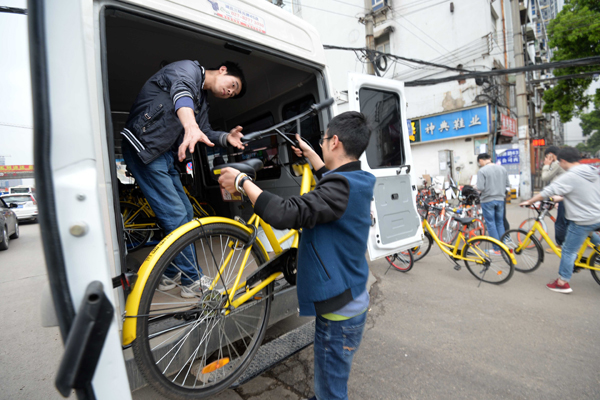 Employees of a bike-sharing company clear bicycles that users improperly parked on a street near Optics Valley Square in Wuhan, Hubei province, in April.[Photo/Xinhua]
China released a draft guideline on Monday to encourage and regulate the booming bike-sharing industry.
It aims to solve problems like illegal parking, lack of clarity in company responsibilities, and the safety of users' deposits and personal information, the draft says.
Public opinion is being solicited until June 5 on the draft, released by the Ministry of Transport and other agencies.
Bike sharing plays a positive role in many ways-meeting public needs, solving the "last mile problem" in urban public transport and easing urban traffic, it said.
The number of public bike registrations by users has surpassed 100 million, according to the Ministry of Transport.
Shared bicycles, provided by companies such as Mobike, Ofo and Bluegogo, have been placed in many Chinese cities since last year. Users can rent a bike at a low cost, usually around 1 yuan (14 US cents) an hour, depending on the brand. The services mostly target short-distance travel, such as between a subway station and work, or from home to the grocery store. They usually require a deposit for registration.
The draft says companies will be required to buy insurance for users, and they are encouraged to waive deposits for users to rent the bikes. Companies should establish ways to handle complaints, comments and suggestions from the public. Companies are encouraged to use high technology to regulate parking of their bikes.
The draft looks at the issue from different angles. "We studied local regulations when drafting the guideline. The new guideline is written from the macroscopic perspective, but it also connects with local regulations," said Yang Xinzheng, director of the China Urban Sustainable Transport Research Center under the China Academy of Transportation Sciences.
Municipal governments in Chengdu and Shenzhen have already issued local regulations to guide the development of shared bikes, and other cities are studying the industry and preparing to release local guidelines.
Companies should be responsible for riders' safety and also for the safety of users' personal information and their deposit, Yang said. They should work on improving online and offline operations, he said.
The principle of the guideline should be the protection of the rights of companies and users, according to Li Junhui, professor of China University of Political Science and Law. "The central government's guideline is required in terms of deposits, information protection and risk prevention, to eliminate controversy and encourage innovation," Li said.
Mobike, a major bike-sharing company, welcomed the move. "It reflects the government's open, tolerant and encouraging attitude toward the development of the public bike-sharing industry," Mobike said on Monday. The guideline "will play a positive role in leading the industry to growth".