Octogenarian relives memories through decades of diaries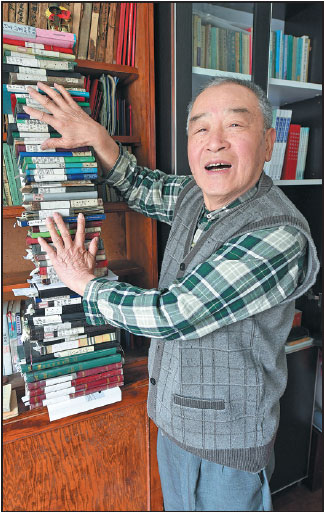 Fan Wenzhi displays his diaries at his home in Harbin, Heilongjiang province.Photos By Liu Yang / For China Daily
Every time his family members reunite in Harbin, capital of Heilongjiang province, retired teacher Fan Wenzhi tells them stories about his past.
However, the 84-year-old has age-related memory loss and has to refer to his plethora of diaries - since 1953, Fan has written a total of nearly 4 million words in 60 diaries.
"In my diaries, I write about daily life as well as commenting on social, political and economic issues," he said. "No matter how late I sleep, I always write a diary entry before going to bed."
Sixty-four years ago, Fan began studying at Mudanjiang Normal School. To this day, he remains grateful for the opportunity he had to get an education.
"I was born into a poor family in a village. Nobody could read or write in my family," he said. "Fortunately, my parents appreciated the importance of education, so they made every effort to send me to school after the founding of the People's Republic of China in 1949."
Fan was 16 at the time, and following four years at primary school, he was able to continue his education at the normal school.
"I knew very little about diaries until our Chinese teacher advised us to write a diary entry every day to improve our writing skills," he said. "It was something I enjoyed, and it soon became a daily habit."
Fan has kept a diary ever since, writing entries even when he is sick or travels to other cities.
"Through the habit, I fell in love with Chinese literature, and I became a Chinese teacher after I graduated," he said.
"Knowledge changed my life. So I made sure my children also understood the importance of education."
Two of his three children have college degrees and one has a postgraduate degree.
Fan's diaries have recorded how the world around him has changed during his life.
"When I read my diary entry from the Spring Festival in 1957 to my grandchildren, they could not relate to it," he said. "At that time, we simply celebrated the Spring Festival by eating dumplings, which seems so boring to them.
"Quality of life has improved since then. Now, we go to restaurants for dinner during Spring Festival. Delicious food is no longer rare. We eat fresh mango in the winter, but we didn't even know what mango was when I was young."
Over the years, the family has moved home seven times, upgrading from a 6-square-meter home to an 80-square-meter apartment, the details of which are all recorded in Fan's diaries.
"In the 1980s, there were seven people living in our 30-square-meter apartment, which was much too crowded," he said. "Now I have my own room to read and write. My wife and I can do what we like without disturbing each other."
Fan has arranged his diaries in chronological order to make it easier to look back over his memories.
"As I get older, my memories fade, so I often read my diaries in my spare time," he said. "It helps me to relive memories and brings me happiness."
Reading diaries is a method of self-reflection, he said.
"I enjoy immersing myself in the diaries, as they document experiences and give me inspiration. I will continue to write entries on a daily basis," he said. "I also hope the diaries can be passed down from generation to generation as a record of our family history."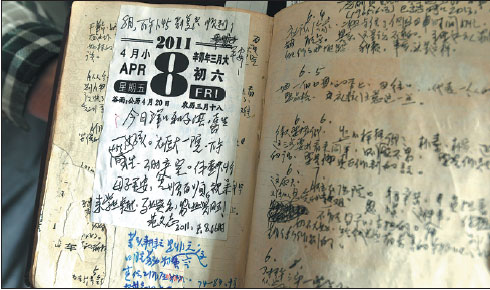 An entry in one of Fan's diaries records the birth of one of his granddaughters.Liu Yang/china Daily