Saving pandas still a task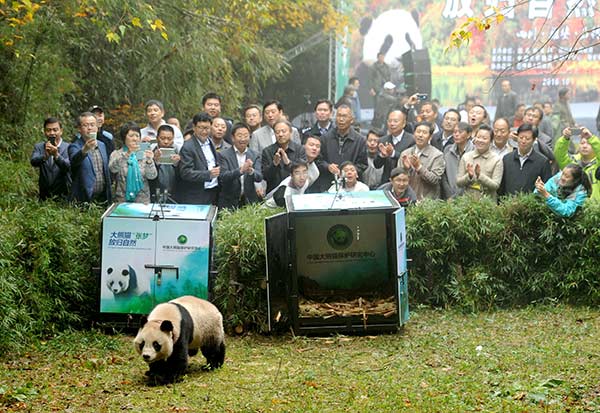 Hua Yan and Zhang Meng (in cage), two female giant pandas born in the China Conservation and Research Center for the Giant Panda, were released into the wild in Shimian county, Sichuan province, in October. [Photo/China Daily]

The IUCN has downgraded the giant panda from "endangered" to "vulnerable". At the end of 2013, there were 1,864 pandas in the wild. As Huang Zhiling reports from Wolong, Southwest China's Sichuan province, plenty of work remains to be done.
Releasing giant pandas into the wild is a tricky business. A giant panda born in captivity at the Chengdu Research Base of the Giant Panda Breeding in Sichuan province died in September 2016 after being attacked by an unknown animal.
In March, He Sheng, a 3-year-old male panda, was released into the Liziping Nature Reserve in Shimian, a county in Sichuan. But experts at the base became concerned after receiving erratic signals from a GPS tag on his neck on Sept 27 and launched a search for the animal. The panda's body was discovered the next day with wounds on its right shoulder, ear and leg.
An examination concluded that the panda had been attacked by an unknown animal and the wounds had caused a bacterial infection that resulted in fatal blood poisoning.
He Sheng was one of the first pandas chosen by the Chengdu base in 2014 for training to live in the wild.
At a meeting in June that year, experts said the animal had the ability to adapt to the wild because it could find food and water as well as protect itself from danger.
Training captive pandas for life in the wild is aimed at enlarging the wild giant panda population and protecting the endangered species.
According to China's fourth panda census, released in February 2015, there were 1,864 wild pandas in the world by the end of 2013.
"But releasing captive pandas into the wild can be risky," says Zhang Hemin, the executive director of the China Conservation and Research Center for the Giant Panda.
The center, located in the Wolong National Nature Reserve in Wenchuan county in Sichuan, which comes under the State Forestry Administration has released seven panda cubs into the wild since 2006, excluding He Sheng, and two have died.
The first casualty was Xiang Xiang, a male released in 2006 at the age of 5.
He was found dead in the woods a year later, with broken ribs and injuries to his ears and back.
Researchers suspected that he might have taken refuge in a tree after fighting wild pandas.