Battle for the brightest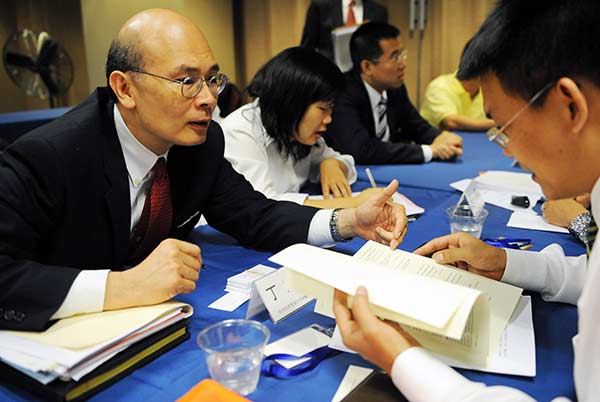 An applicant (left) introduces himself to a representative from University of International Business and Economics in Beijing during an overseas job fairs targeting overseas Chinese talents in New York. [Photo/Xinhua]


Competition among domestic universities to attract talented young faculty members is heating up, Zhao Xinying reports

The "generosity" a prestigious university exhibited in a recent recruiting notice to attract prospective talented young employees has caught people's attention.
In the notice, the University of Science and Technology of China, located in Hefei, East China's Anhui province, said top science and engineering talents are wanted for crucial teaching and research posts.
Those hired will receive a salary of at least 450, 000 yuan ($65,000), research funds ranging from 1 million to 3 million yuan, a living stipend of 500,000 yuan and a 160-square-meter apartment.
Applicants are expected to be aged below 40, have generated outstanding research results and have worked more than three years at a prominent higher education institution or research institute overseas.
The university is not alone in seeking young talents, though its offer is particularly generous. In recent years, an increasing number of universities in China have adopted such methods to lure young talents studying or working overseas.
Some, like the university in Hefei, post want ads with tempting incentives while others send recruiting "task forces" overseas in the hope they will be able to sweet-talk talents into signing up.
Tian Guoqiang, director of the School of Economics at Shanghai University of Finance and Economics, said his university was one of the earliest among higher education institutions in China to start recruiting faculty members from overseas.
Since 2005, Tian has led a team to the United States each year to look for teaching and research staff. More than 100 teachers and researchers with PhDs have been sourced in this way over the past 13 years.
Liang Qi, director of the human resources division at Shanghai Jiao Tong University, a leading domestic institution, said almost every visit made by the heads of the university and its schools to institutions overseas has involved recruiting presentations and interviews with talented young people.
And not long ago, the university published want ads in leading international periodicals, such as Science, and Nature, for people who are dedicated to relevant academic research.
National importance
In January, Tian and his colleagues flew to Chicago for the Allied Social Sciences Associations Annual Meeting, where thousands of the best minds in the social sciences gathered to present and celebrate new research achievements.
On the sidelines of the annual meeting, Tian's team interviewed 82 candidates who stood out from 261 applicants, many of whom graduated from the most prestigious universities in the US, including Princeton, Stanford and Columbia.
Twelve were eventually hired.
Tian said the importance of such talents cannot be overstated, not only for the development of a university and a particular discipline, but also the county.
The professor of economics said business education at domestic higher education institutions, for example, was brought back on track in 1990s, when China set the goal of building up a market economy and joining the World Trade Organization.
But although almost all domestic colleges and universities have introduced majors related to business studies during the past two decades, there is still a short supply of internationally educated teachers who are able to lecture on courses that meet international criteria, which hinders domestic business schools from moving forward.
"Many institutions solve the problem by extending invitations to talented young Chinese studying or working abroad," Tian said.
Liang at Shanghai Jiao Tong University said recruiting talented staff is the "top priority among all priorities", since all the best universities in China, including his, are making great efforts to become world-class institutions.
"We treat the young members of our faculty as our strategic resource, as they are playing a key role in the development of the university," he said.
More coming back
While domestic universities are constantly heading overseas to hunt for bright minds, an increasing number of talented young people are returning of their own volition.
Statistics from the Ministry of Human Resources and Social Security show that a total of 2.65 million Chinese have studied overseas since China's reform and opening-up in 1978, with more than 430,000 of them returning home last year alone.
With the stimulus and support of a series of national-level plans to attract top talents, such as the Recruitment Program of Global Experts launched in 2008 and the Young Overseas High-level Talents Introduction Plan initiated in 2011, the number of people coming back with the title of professor between 2008 and 2016 was 20 times more than the total number who returned in the three decades between 1978 and 2008.
Wang Huiyao, director of the Center for China and Globalization, a think tank, has conducted research on talent-related topics for years.
In his eyes, many Chinese talents choose to come back because of the great potential for both career and personal development being released by the rapid rise of China.
"New things are occurring in China all the time, creating a lot of opportunities and attracting attention from all over the world," he said, citing the recent announcement of the plan to develop the Xiongan New Area in Hebei province as an example.
After earning a PhD from Netherland's prestigious Tinbergen Institute and Erasmus University Rotterdam last year, Huang Zhenxing chose to join a university in his hometown Shanghai, rather than a post at a university in the US or Australia.
The 32-year-old associate professor of economics at Shanghai University of Finance and Economics believes that although China's economy has grown to be the world's second largest, there is a lot to be improved in business research and education, and he anticipates career take-off and a brighter future.
Although China's research in economics is not as advanced as it is in some other countries, Huang said he has strong confidence that China will catch up soon.
"Many bright people of my generation have studied abroad and have now come back. These people know China's reality and international research approaches and can combine them together, making me believe that China's catching up is merely a matter of time."
Good conditions
In spite of the fact more talented individuals are coming back, Tian said the competition among domestic institutions for high-end returning talents is becoming increasingly fierce.
"At the annual meeting in January, we encountered at least 40 domestic institutions which were also conducting job interviews there," he said. "You could not imagine such a situation a decade ago when the number was only a single digit," he said.
He added that many universities, particularly some with the financial support of the provincial government where they are located, offer very high, attractive salaries to overseas talents.
But he believes that a high salary is not the be-all and end-all for attracting talents.
"Rather, 'soft power' elements such as favorable working conditions, a comfortable living environment, as well as a clear self-development route are more important," he said.
From his decade-long recruiting experience overseas, Tian said the biggest concern among high-end talents when deciding whether to return and work in China is whether they will enjoy personal growth.
His university has therefore built up an academic platform by regularly holding seminars, workshops, lectures, forums and conferences that involve global academics to ensure that teaching and research staff at the university remain close to the frontiers of their disciplines.
He said the university has also established a "tenure track" system-a system similar to academic tenure overseas-that offers high salaries and abundant support for research over six years.
Annual evaluations over the six years, along with a final evaluation at the end of that period, then determine whether the professors will be offered tenure or leave the position.
Wang of the Center for China and Globalization said it is always a big choice for high-end talents to relocate, particularly those who have lived and worked overseas for quite a long period of time, as there are so many things to consider, so many things to adapt to and so many problems to be solved.
"In that sense, domestic employers offering all-rounded support and services-internationally competitive salaries, academic freedom, career development, convenience in daily life, spouse's employment, children's education and so on-would be the most attractive."