Beijing landscaper finds his garden bliss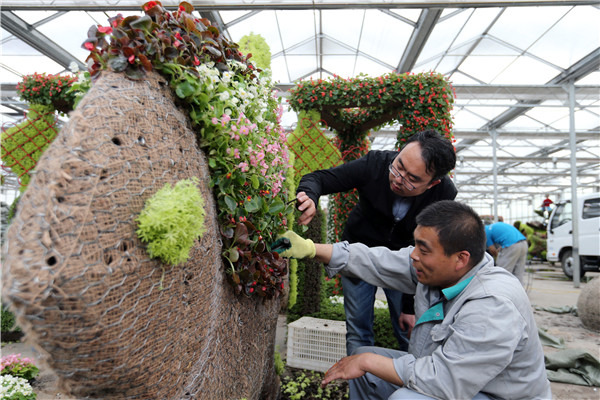 Yu Yunle helps a gardener decorate a flowerbed on Apr 14, 2017. [Photo by Wang Zhuangfei /chinadaily.com.cn]
Serve ordinary people
Although his work has won a lot of awards at home and abroad, Yu is for most of the time an unsung hero who arranges flowers and trees along the roads and builds small gardens in local neighborhoods.
However, it is those works serving ordinary people that make him happiest.
"I feel really fulfilled that, because of my design, people live in a neighborhood where they can play with their kids and chat with their friends while enjoying the flowers and shade of trees," He said.
Yu enjoys taking feedbacks from his users. He said he is doing the job from a designer's perspective. Therefore it is very helpful to listen to the ideas of the people who live with his work every day.
"For example, as a landscape designer, whenever I see people stepping on the lawn, my first idea is not to criticize their behavior, but to consider what went wrong with my design. Why don't people use the path next to the lawn, instead of stepping on the grass?"
At the same time, Yu hopes the industry can get more attention and recognition. He noted that in China, landscape design still takes the back burner to architecture. "If a developer invests 100 million yuan to build a housing estate, the majority of the money will be spent on buildings. Many developers only consider greening when there is money left."
The public need to know that landscape is not just about growing trees and flowers. It is a science, he said.
"Only when people know more about this, can we better do our job and serve them."