Woman of steel - a welder's story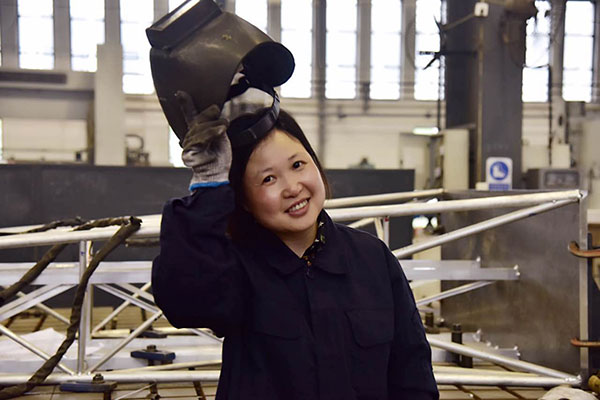 Huang Chunyan takes off her welding helmet at the workshop of Anhui Brainware Chang'an Electronics Co Ltd in Lu'an, Anhui province, April 25, 2017. [Photo by Song Wei/chinadaily.com.cn]
She spent hours preparing herself by squatting on purpose. Every morning, she was the first one to come to the workshop, gathering all kinds of scraps of materials to practice.
"But welding is more than hard manual labor. One needs to think hard, to find a better way to finish a task, improve the efficiency and boost the quality of work."
It was her tenacious efforts in learning, practicing and thinking and paying attention to details that soon made her stand out.
In 1992, two years after starting the job, Huang took part in a local welding skills competition and took the first place. In the following years, she again made her mark in contests and won a slew of prizes.
In 2015, she was awarded the National Model Worker award with other 2,967 workers across the country. The prize, one of the most honorable award for workers, is granted by the State Council every five years.
"The honors have been giving me a sense of achievement; therefore whenever I pick up the torch, I feel ensured and quite content," Huang says.
A job asking for sacrifices
Summer is usually the busiest time as the company receives substantial orders in "the most unbearable weather."
Her company, Brainware Chang'an Electronic, engages in the provision of electronic equipment, navigation radar, and shelter power station for national defense construction.
The temperature at the workshop can go as high as over 40 degrees Celsius, and the workshop has no air-conditioners or fans due to safety reasons.
Workers, dressed in thick protective overalls, often "get soaked inside out from head to toe like they have been under a huge downpour," Huang says.
Other than heat, the exposure to the brightness is also not comforting. Even with the full face welding helmets, the long-time exposure is causing a gradual loss of eyesight to Huang.
The brightness of the weld area leads to a condition called arc eyes in which ultraviolet light causes the inflammation of the cornea and burns the retinas.
"My eyes often itch at night, and it feels like there are sand particles in there," Huang says.