Best books recognized in Wenjin Awards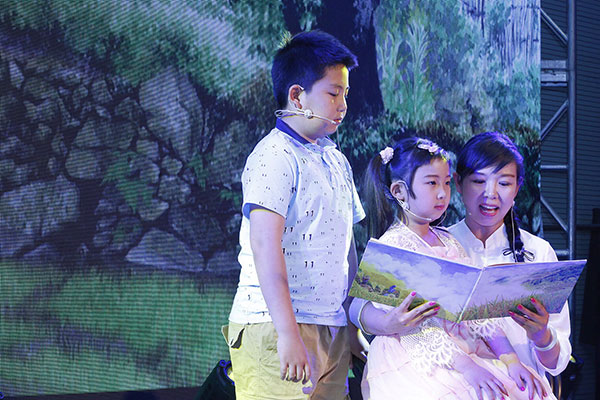 Readers deliver an excerpt from Dishes on Plate, a winner of a 2017 Wenjin Award, on Sunday.Zhang Yuwei / Xinhua
High-quality books on traditional Chinese culture are being revitalized, judging from the results of the 12th annual Wenjin Awards, China's national-level comprehensive book award to encourage public reading.
The results were released on Sunday, which was World Book and Copyright Day.
Awards from the National Library of China were given to 10 winning books from about 80 finalists chosen by 14 top librarians and scholars. Several preliminary rounds involving media and libraries nationwide whittled down a field of 1,800 books that were published in China last year.

The award, usually excluding novels, has three categories: humanities, popular sciences and children books. Half the winners this year deal with different aspects of traditional Chinese culture - ancient music, architecture, philosophy, astronomy and food.
"Only three winners were translated," said Wang Yusheng, a researcher at the Chinese Academy of Sciences, who has been a judge for the award since 2006. "That shows that the quality of Chinese books is improving."
He said the mixing of social and physical sciences is a trend this year, and the winning children's books were suitable for adult readers.
"Many good children's books have been introduced into China from other countries in recent years. They helped broaden people's horizons and inspired our writing," said Yu Hongcheng, author of the award-winning Dishes on Plate.
"However, it worries me that Chinese children may not have enough self-confidence from a cultural perspective when exposed to a market dominated by translations."
That concern encouraged her to create the picture book, which traces Chinese agrarian culture - starting with rice, a foundation of Chinese cuisine.
Another winner, Xu Gang, author of the popular science book Empire of the Stars, said: "Western signs of the zodiac are popular in China. People sometimes forget that we have our own ancient astronomy."
He added that the old system remains a crucial element in understanding traditional Chinese culture.
"Traditional Chinese culture is often explained in misleading ways," said Lou Yulie, author of winner The Basic Spirit of Chinese Culture. "What matters is not the accumulation of knowledge, but how to use it in modern life. Reading helps this."
"The award strives to stay away from market performance," said Zhou Guoping, a philosophy professor and a judge for the Wenjin Awards. "Reading good books should be pure process."