Poor to receive help to relieve the burden of disease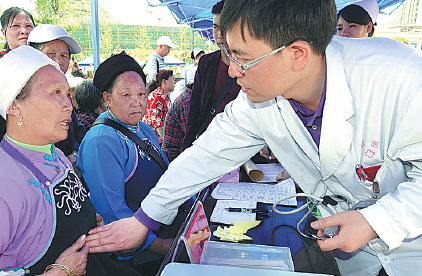 Cui Dejun (right), a doctor specializing in digestive systems, checks an elderly woman in Changshun, Guizhou province, this month, as part of the province's poverty-alleviation efforts. Peng Nian / For China Daily
The top health department released a plan on Friday to ease the burden of disease in poor and remote areas.
The plan will cover about 20 million poverty-stricken people in 26 provincial regions, including Chongqing, Sichuan, Guizhou, Yunnan and Tibet, according to the National Health and Family Planning Commission.
Major illnesses like heart attacks, chronic diseases like diabetes and high blood pressure, and severe diseases like cancer are three major targets in the plan.
Under the four-year plan, the commission will choose pilot hospitals and set protocol to ensure that every major illness has a certain treatment and standard fee.
Apart from improving medical treatment in pilot hospitals, priority will be given to poor patients who have those diseases.
A health card will be linked to every resident whose annual income is below the country's poverty threshold of 3,000 yuan ($436) in those regions. Annual health checks will be available to those with a card.
Moreover, the commission will encourage local health departments to assign "family doctors" to follow the health conditions of card holders with chronic diseases.
For poor families with patients suffering from serious diseases, the commission will cooperate with local social security and financial sectors to give extra support.
"Nearly half of China's poverty is a result of the burden of disease," said Wang Peian, vice-minister of the commission.
The commission has carried out surveys and will draft a guideline to help each region.
"Disease and poverty are two crucial elements that determine people's happiness. The plan will be an important step for the whole country to strive for prosperity," said Xia Gengsheng, an official from the State Council Leading Group Office of Poverty Alleviation and Development.
China has lifted nearly 700 million people out of poverty during the past 30 years. It still had more than 55 million people living in poverty at the end of 2015, according to a white paper issued last year.