Li talks with shantytown dwellers in Shandong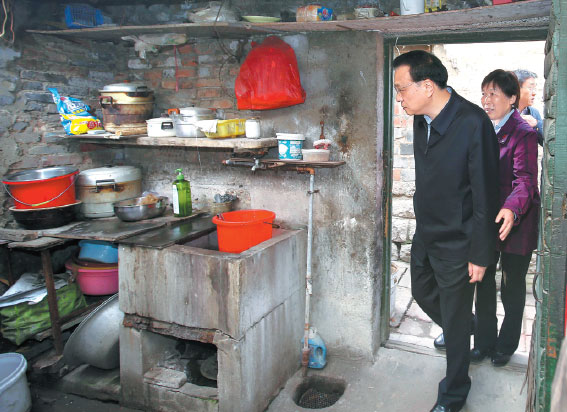 Premier Li Keqiang visits a shantytown home in Jinan, Shandong province, on Friday. Zhang Shirong, 77, has lived in the unheated house with her husband for 42 years. Liu Zhen / China News Service
Premier ensures residents efforts are underway to better their lives
Premier Li Keqiang called for rebuilding shantytowns to help improve local residents' welfare and make a stable and healthy real estate market, during a visit to Shandong province on Friday.
On the third day of his inspection of the province, Li visited the shantytown along Jingshiyilu Street in Huaiyin district of the provincial capital of Jinan. The area is part of Jinan's plan to renovate old towns this year, and more than 4,700 families will benefit from the renovation project.
Surrounded by skyscrapers, the area is crammed with shabby houses that have no access to heating or the sewer system. Shantytowns provide low-level housing in cities and efforts would be made to help residents lead new and better lives in multistoried buildings, the premier said.
Shantytown renovation, which is to remedy what historically had not be done in improving local people's welfare, is also an important way to achieve new-type urbanization and also to help build a healthy and stable real estate market, Li told local officials.
The premier stepped into the 32-square-meter house of Zhang Shirong, 77, who has lived there with her husband for 42 years. Zhang has to put on three or four quilts in the winter. She is afraid to burn coal after getting a carbon monoxide poisoning from a coal-fueled stove several years ago.
Wang Guilan, 87, had been living in a 19-sq-m shanty house for 56 years. Wang suffers from high blood pressure and heart disease, and her family was unable to afford a bigger apartment. She asked the premier when her family could move into a new home. Local officials said a date has been set for next year, and Li told Wang the promise will be kept.
On Friday, Li also visited researchers of crystalline materials, business startups as well as compilers of traditional cultural books at Shandong University.
The premier started his Shandong tour on Wednesday. On Thursday, Li visited Jinan Steel and Iron Group, a subsidiary of Shandong Steel Group.
As the company is cutting excess production capacity, more than 20,000 workers have to be transferred to other posts. The country will remember the workers' contribution, their legal rights will be ensured and no one will lose their job, Li told workers.