Unusual home spells happiness for man, ex-wife and her husband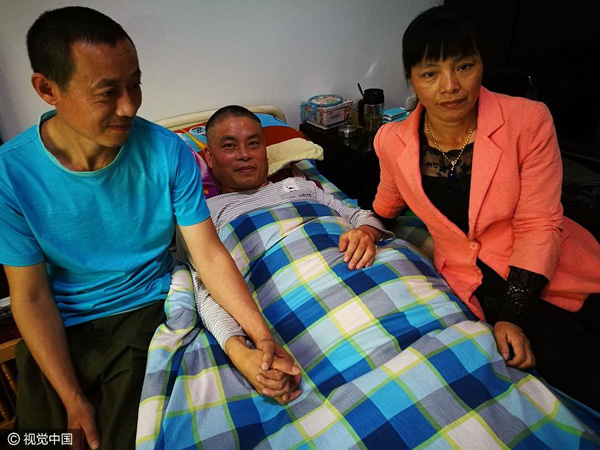 Zhao Jinlong (left), Liu Haojin (center), and Zhou Yuying pose for a photo at home in Lishui, East China's Zhejiang province, April 18, 2017. [Photo/VCG]
A paralyzed man in Lishui, East China's Zhejiang province who has lived happily with his ex-wife and her current husband for about 12 years, says he is deeply moved by the goodness of these two people who care for him.
"Zhao has really done it. In 12 years, he has treated me like a brother. We are now good friends and brothers. I am so blessed to live with them," Liu Haojin, told Qianjiang Evening News on April 18.
Liu, 48, lives in Shang'an village in Xinxing township, Songyang county in Lishui. Liu was paralyzed below the waist after falling from the third floor of a building where he did woodwork in 2000.
Zhao Jinlong, 41, is the current husband of Liu's ex-wife, Zhou Yuying, 44. Liu married Zhou in 1994, and she divorced him in 2005 to marry Zhao, who agreed to help her take care of Liu.