Home / China / Innovation
Launch of satellite marks new communications era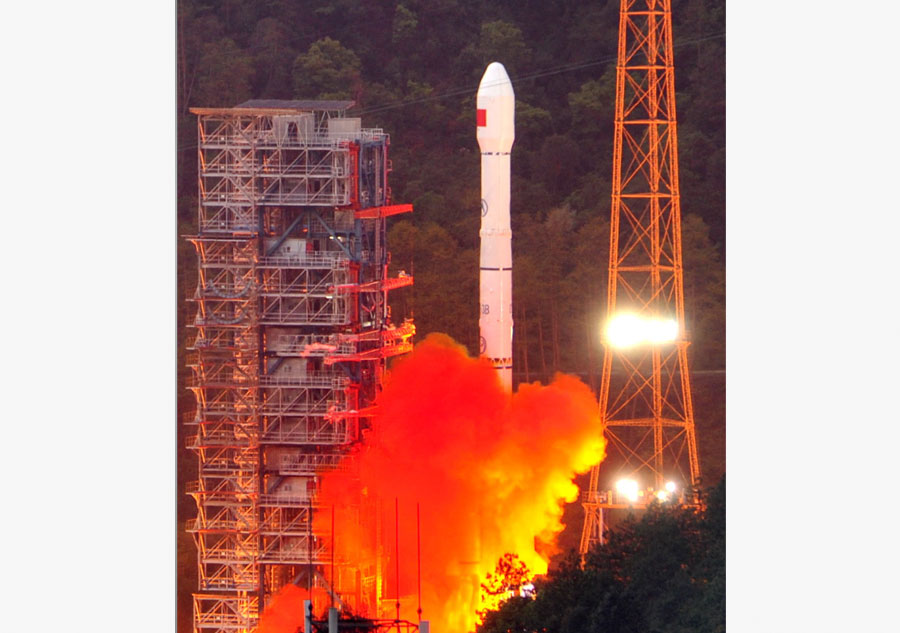 Shijian 13, China's most advanced communications satellite, is launched at the Xichang Satellite Launch Center in Sichuan province on Wednesday.[Photo/Xinhua]
Technology makes transmission of high-resolution video possible
China launched its most advanced communications satellite at 7:04 pm on Wednesday, marking the start of the country's large-capacity communications network in space.
Shijian 13, which was developed by the China Academy of Space Technology and based on its DFH-3B communications satellite platform, was lifted atop by a Long March 3B carrier rocket from the Xichang Satellite Launch Center in Sichuan province.
The satellite, which weighs 4.6 metric tons, is expected to stay for 15 years in a geostationary orbit about 36,000 kilometers above Earth, the academy said.
The satellite features a Ka-band broadband communications system capable of transmitting 20 gigabytes of data per second, making it the most powerful communications satellite the nation has developed.
Zhao Jian, a space program official at the State Administration of Science, Technology and Industry for National Defense, which oversees China's space programs, said the transmission capacity of Shijian 13 exceeds the total capacity of all of the country's previous communications satellites.
He said that in addition to its communications missions, the satellite will also be tasked with conducting space-to-ground laser communications experiments.
Zhou Zhicheng, head of the China Academy of Space Technology's Institute of Telecommunication Satellite, said Shijian 13 would use electric propulsion after it enters orbit, which will extensively reduce the chemical fuel the satellite carries.