'Empty-nest' youths in China exceed 20 million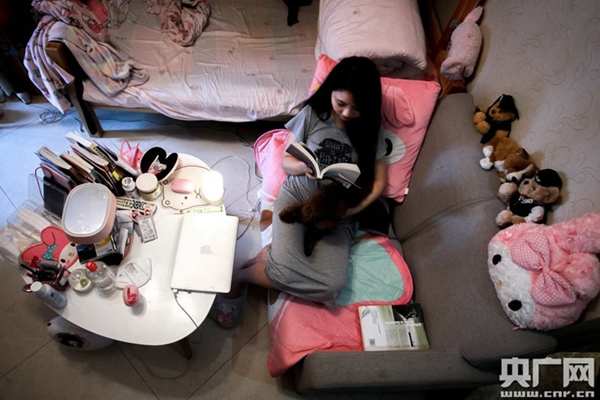 A girl living with her pet in an apartment in Beijing.[Photo/CNR]
China has over 20 million "empty-nest" youths aged 20 to 39, and most of them live in major cities, according to a report by China National Radio (CNR).
Beijing, Shenzhen, Shanghai and Guangzhou are home to the biggest number of empty-nesters. They are young singles who live alone to work usually in cities.
People with "empty-nest" syndrome used to refer mainly to the elderly whose children have moved out from their homes. The term's definition has been stretched in China as more young folk live alone away from their hometowns.
These young empty-nesters are often perceived as shut-ins who prefer to spend most of their time in their apartments. Their main way of interacting with others outside of work is through social media.
China's loners a cause for concern?
Data from the National Bureau of Statistics show 12.45 percent of households in the country were inhabited by one person each in 2015, up by over four percentage points from 2008.
Sichuan University sociology professor Wang Yimei, speaking to Xinhua, said the growing number of empty-nesters was a result of uneven social and economic development between big cities and small towns.
"Empty-nest" just a label
Cao Fang, a 29-year-old in Beijing, bristled at the empty-nest label. "Sometimes, I go for dinner or shop with my colleagues," She also spends plenty of days at home reading. "I've lived like this for four years. I haven't found it unbearable."
According to data from online food delivery service Baidu Waimai, young people living alone have more money to spend on better food and clothes. And one in five young empty-nesters has no savings or is in debt.
"For the young people who have just graduated and aren't married, it's ordinary," said Dong Haijun, professor of sociology at the Central South University.
"They will have their own social hubs, which will not be bound by those of their parents," Dong said.