Thai edition of Xi Jinping: The Governance of China graces book fair in Bangkok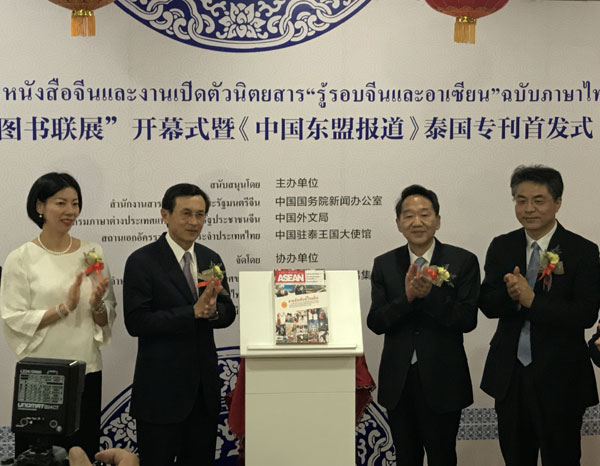 Jiang Jianguo (2nd R), minister with the State Council Information Office, and Chaturon Chaisang (2nd L), former Thai deputy prime minister, jointly cut the ribbon at the opening of a Chinese book fair that kicked off in Bangkok on Saturday.[Photo by Xu Wei/chinadaily.com.cn]
The Thai edition of
Xi Jinping: The Governance of China
is among the hundreds of books on display at a Chinese book fair that kicked off in Bangkok on Saturday, after the book was hailed as gateway to learning about China during its launch by top Thai officials.
The book fair is aimed at further promoting the exchanges of experience on governance between China and Thailand, said Jiang Jianguo, minister with the State Council Information Office, during the opening of the event.
Jiang said he believes the publishing of the Thai edition of the book will open a new window for Thai people to learn about China.
"I hope it will also provide a new platform for China and Thailand to exchange the experience on governance," he said.
The Thailand edition of the China Report ASEAN, a national monthly periodical published chiefly in English and targeted at the ASEAN member countries, was also launched during the inauguration of the fair.
Chaturon Chaisang, former Thai deputy prime minister, said at the opening of the function that he hopes the fair and the launch of the Thailand edition of the report will enable more Thai people to learn about the new notions and thoughts of governance in China and to learn about the current situation in China.
"I also hope such cultural exchange activities will become more regular to provide a bigger and larger platform for Thai people to learn about China," he said.
The Thai language edition of the book was released Friday at the parliament building of Thailand.
A number of Thai officials, including Thai Deputy Prime Minister Wissanu Krea-ngam and Pornpetch Wichitcholchai, president of Thailand's National Legislative Assembly, have lauded the book as a good way to learn about modern China and President Xi Jinping himself.