A glimpse into sports-related gifts Xi received
Editor's note: President Xi Jinping received a jersey from athletes during his visit to Finland on Wednesday. Xi, a huge sports fan, loves nearly all kinds of games and has received different kinds of sports gifts from athletes, clubs and governments. Here we take a look at some of Xi's collection of sports memorabilia.
Jersey, from Finnish athletes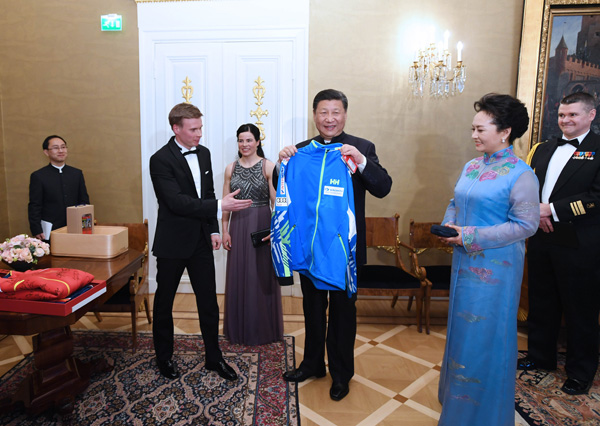 Finnish athletes present a jersey to President Xi Jinping in the presence of his wife Peng Liyuan in Helsinki, Finland, April 5, 2017. [Photo/Xinhua]
Xi and his Finnish counterpart Sauli Niinisto met skaters' representatives from the two countries Wednesday evening, with both sides pledging to enhance cooperation in winter sports. The athletes just attended the World Figure Skating Championships 2017, which ran from March 29 to April 2 in Helsinki.