Youngest organ donor in China: 33 hours old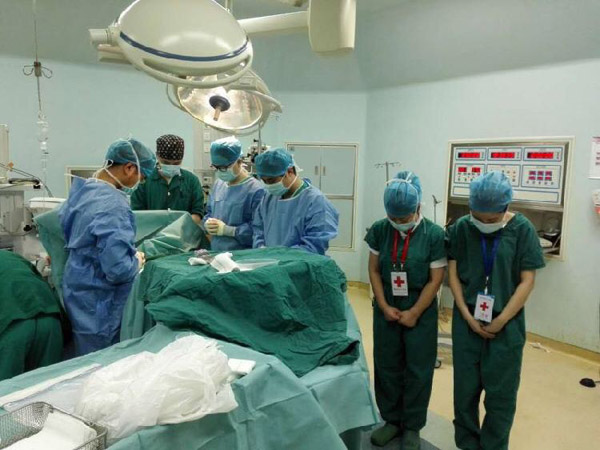 Doctors and nurses stand in silence to honor the young organ donor.[Photo provided to chinadaily.com.cn]
On March 27, an organ donation procedure was carried out at Chongqing Daping Hospital on a donor who only lived for 33 hours.
The baby boy was diagnosed with severe congenital heart disease after his mother gave birth by Caesarean section, or C-section. After their son passed away, the parents decided to donate the child's organs to help extend another's life, according to the local Red Cross Society.
After a doctor evaluation, the boy successfully donated two kidneys that would be used to help save a 27-year-old woman with renal failure.
The Red Cross Society of China and the former Ministry of Health started the organ donation system in March 2010, encouraging citizens to voluntarily donate organs after they pass away to help others live longer.
The baby boy in Chongqing is the youngest donor since it was established.
Public understanding and support of organ donations has significantly improved over the years in China. Nearly 170,000 people had registered as organ donors in China by the end of last year.
A total of 4,080 organ donations were made in 2016, with 11,296 organs being donated, an increase of 47.5 percent from 2015, according to the Red Cross Society of China.