Soil restoration projects proposed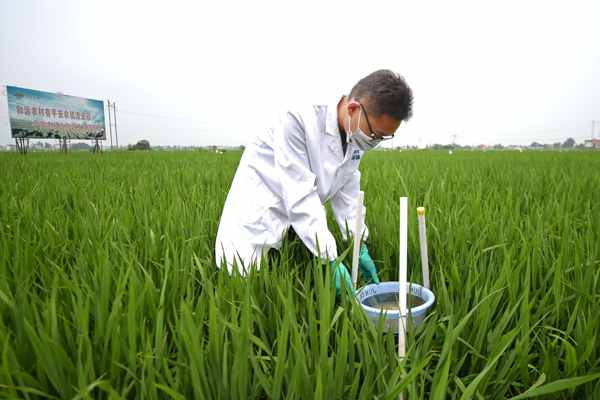 A researcher adjusts a sediment collection vessel in Changsha, Hunan province, in June, as part of efforts to monitor and restore the cadmium-tainted soil.[Photo/Xinhua]
Contamination called 'alarming' for endangering food security
China's leading scientific institute will invest 20 million yuan ($2.9 million) over the next 18 months in projects that tackle heavy metal pollution in soil, as part of efforts to safeguard food and water security, the Chinese Academy of Sciences said on Wednesday.
The soil restoration projects, spearheaded by the academy's Institute of Soil Science in Nanjing, Jiangsu province, will establish regional standards for cadmium, nickel, arsenic and other toxic heavy metals.
Two pollution control demonstration zones - one focused on mercury and the other on cadmium - will be built in Tongren, Guizhou province, and the Changsha-Zhuzhou-Xiangtan area in Hunan province respectively.
Moreover, there will be a national research network for technologies such as extracting heavy metal using plants and making heavy metals less toxic.
The institute will also build a regional surveillance platform and industrialization park to monitor and recycle heavy metals during soil restoration projects, said Yan Qing, head of the academy's bureau of science and technology for development.
A 2014 survey by the ministries of environmental protection, and land and resources found that 36.3 percent of soil samples were polluted. China will conduct thorough surveys of soil pollution to get a clearer picture, Chen Jining, minister of environmental protection, said earlier this month.
China has 122 million hectares of arable land, but is losing 400,000 hectares of mostly fertile land each year to construction, pollution and natural disasters, said Shen Renfang, director of the Institute of Soil Sciences.
Soil pollution is "a very alarming matter" because "food security is unsustainable if we keep losing arable land to pollution, and polluted crops, like rice laced with cadmium, could undermine consumer trust and public health," Shen said.
In May, the State Councill, China's Cabinet, issued a national plan to improve the prevention and control of soil pollution, including strictly prohibiting the setting up of industries and farms that fail to meet standards.
"Local officials will now think twice when establishing an economically rewarding, but polluting, industry," said Zhou Dongmei, a researcher at the institute. "Sadly, there is no quick solution to cleaning up soil pollution on a large, cost-effective scale."
The short-term goals should focus on risk control and ensuring the safety of agricultural goods, as well as researching new solutions, Zhou said. "But the hardest part is balancing economic growth with ecological protection, especially at the local level."
The soil restoration projects are one of 11 major science programs planned this year. The programs, costing a total of 190 million yuan, aim to promote economic and social growth, Yan said.
"Previous pollution control projects were often on a case-by-case basis, because each area has its own complex geographical makeup and causes of pollution," Yan said. "The new projects will tackle the issue in a more wide-ranging, systematic manner, so the emerging standards and solutions are more universally applicable and effective on a greater scale."