Animal lovers want tough laws
Animal lovers have made fresh calls for legislation to protect pets after discovering dozens of dead cats and dogs in a fridge in an apartment building in downtown Shanghai.
A group of six residents broke into the home of Yi Zhenglai on Xinzha Road after hearing reports that he makes a living by butchering small animals and selling the meat.
Zhu, who took part in the break-in on Thursday night and declined to give his full name, said they found a fridge filled with carcasses wrapped in plastic bags under a stairwell on the second floor of the apartment block.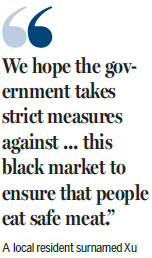 Some shared images of the dead animals on WeChat, and within hours a large crowd began to gather around the building, he said.
Yi called the police, who arrived to take him and the fridge away. However, Zhu said the crowd stayed behind and some decided to break into Yi's home "because we heard dogs barking inside".
He said they found two puppies as well as more dead animals, including sparrows and snakes soaked in liquor. Some of the crowd then smashed Yi's furniture and home appliances.
"They went too far," said a social worker who lives in the neighborhood and did not want to be identified. He said Yi has lived in the area all his life and has two children.
Yi has received complaints from residents about his butchery business, "but our hands are tied because there is no law against it", said the social worker. "If there was a law against animal cruelty, law enforcement could take action."
According to the authorities in Jing'an district, police officers returned the apartment block the next day to disperse the crowd.
Yi later told a reporter for Suzhou TV, "Even if a law is put into effect tomorrow, my conduct today is not an offense."
China drafted its first law on animal protection in 2009. However, so far, the only law against animal cruelty that has been passed is on wildlife conservation, which does not include domesticated animals.
Zhu said he suspects that the meat produced by Yi ends up at wet markets and even restaurants. "His so-called business is a serious threat to food safety," he said.
A woman surnamed Xu who has followed the illegal meat business for years added, "We hope the government takes strict measures against... this black market to ensure that people eat safe meat."