Artist with hearing loss teaches disabled children
By Feng Zhiwei in Changde, Hunan and Liang Shuang in Beijing | China Daily | Updated: 2017-03-17 08:14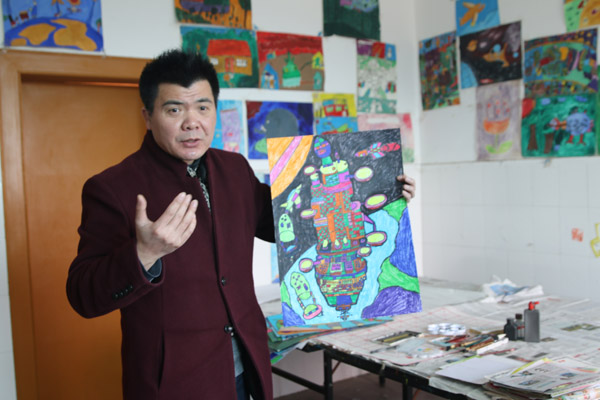 Chen Hongxi displays a painting by one of his students at the Anxiang Special Education School in Henan province. [Photo by WEN XINZHENG/CHINA DAILY]
Chen Hongxi has been teaching art since 2011. But at the Anxiang Special Education School in Anxiang county, Hunan province, the typical becomes atypical.
Chen, 36, who uses a hearing aid, teaches students who may have similar difficulties or other physical or mental disabilities.
The school, founded in 1996, teaches about 110 students - 60 percent of them have mental issues, 30 percent are unable to hear or speak and the rest have other disabilities.
Chen and 17 colleagues teach at the school, which exempts students from all tuition and living expenses.
As he rides his bicycle onto the school grounds, he's often greeted by students running to him shouting "Daddy Chen".
"This is when I feel the most satisfied," Chen said.
A native of Anxiang, Chen lost most of his hearing due to illness.
After graduation, he was assigned to teach at a primary school, where he was mocked by students and struggled in his work.
To brighten his dour days, Chen developed an interest in newspaper and magazine cartoons.
He had no background in drawing, but he was determined.
After long days and nights perfecting his skills, Chen's artwork began to hit the magazines. Through the years, thousands of his works have been published.
He also saw a new opportunity after reading a recruitment ad by the Anxiang Special Education School. He applied and was accepted.
"I need a hearing aid myself, so I know the difficulties disabled people face," he said.
"Many disabled people I know are moody because they have little interaction with others. Children can be guided to be better. But it's harder for adults, so I became a teacher because I understand."
Chen said he believes that while society needs more tolerance regarding people with disabilities, such individuals need to accept their circumstances.
"As the saying goes, when God closes a door for you, he will open a window. Everyone is unique," he said.
But sometimes that window isn't open far enough, and for Chen some problems remain because he teaches students with hearing disabilities, intellectual challenges and autism.
"Regular children are difficult to deal with, let alone special-education students," he said.
Chen once was beaten up by three hearing-impaired students over a misunderstanding.
"I felt stupid and vexed for a long time, but eventually I got over it," he said.
Chen's original science fiction drawings have inspired his students and several have become artists themselves.
Deng Xingzhou is among them. Deng, 15, was born deaf, but thanks to Chen's instruction and inspiration he won a provincial first-class award for innovation.
Chen also is looking to the future for his students and others with disabilities.
"Hopefully I can launch some projects for the disabled, such as a teahouse or cafe, where the deaf and mute can work," he said.