Tibet to open world's highest super-long tunnel
The Mila Mount Tunnel on the Lhasa-Nyingchi Highway is expected to be opened in September, when it will become the world's highest super-long tunnel.
The tunnel is located at the junction of Lhasa and Nyingchi in the Tibet autonomous region at an average altitude of 4,740 meters above sea level, according to the Mila Mount Tunnel Project Headquarters.
As a key section of the Lhasa-Nyingchi Highway on the National Highway 318, the two lanes of the tunnel are 5,727 meters and 5,720 meters long respectively, according to the project headquarters.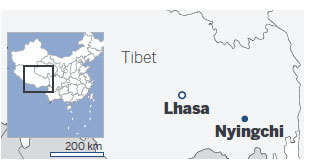 Construction of the tunnel started in April 2015, and the project is about 70 percent complete to date, it said, adding that, hampered by the natural environment at high attitude, the construction process has encountered many obstacles.
"With a lack of oxygen and temperature lows of - 30 Celsius in winter, we require highly skilled workers," said Wang Liang, chief engineer of the project headquarters.
Wang said many workers suffered from attitude sickness during the tunnel's construction, and that much time and effort has been spent on recruiting qualified workers.
In order to overcome such difficulties, there are 15 oxygenators, an oxygen tank and five boilers on the project site, he added.
After it opens, traveling time between the cities of Lhasa and Nyingchi will be halved, Wang said.
"Driving from Lhasa to Nyingchi will take just three to four hours instead of about eight, and it will be much safer," Wang said.
"It will also have a positive impact on the social and economic development of these places, and it will make life much more convenient for local ethnic groups."