China's 1st cargo spacecraft to make three rendezvous with Tiangong II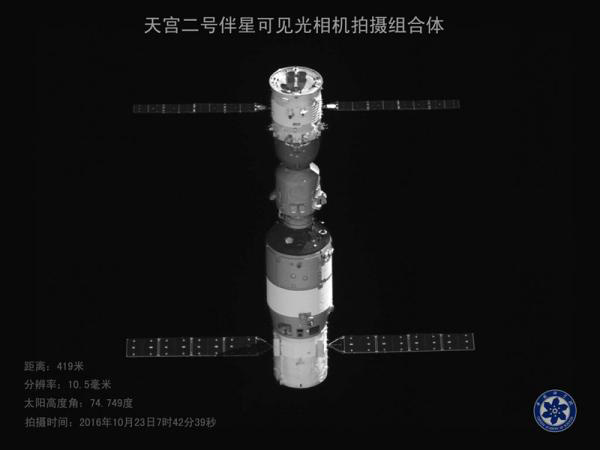 An image sent back by an accompanying satellite shows Shenzhou XI (top) and Tiangong II (bottom) in space on Oct 23, 2016. The satellite took the photo at a distance of 419 meters from Tiangong II and Shenzhou XI. [Photo/CCTV]
BEIJING - China's first cargo spacecraft Tianzhou I is expected to dock with the orbiting Tiangong II space lab three times after its planned launch in April, sources said Saturday.
Tianzhou I will be sent into space from the Wenchang Space Launch Center in south China's Hainan Province aboard a Long March-7 Y2 carrier rocket, according to a spokesperson of China's manned space program.
It is scheduled to refuel Tiangong II three times and carry out experiments and tests.
During the journey, Tianzhou I will orbit on its own for about three months and together with Tiangong II for about two months after their rendezvous.
At the end of the mission, Tianzhou I will leave the orbit and fall back to earth while Tiangong II will remain in orbit and continue its experiments.
The Tianzhou I mission will complete the second phase of the country's manned space program.
It will be crucial for China in achieving the final step of establishing a space station around 2022.