1,000 students in Central China share silent dinner together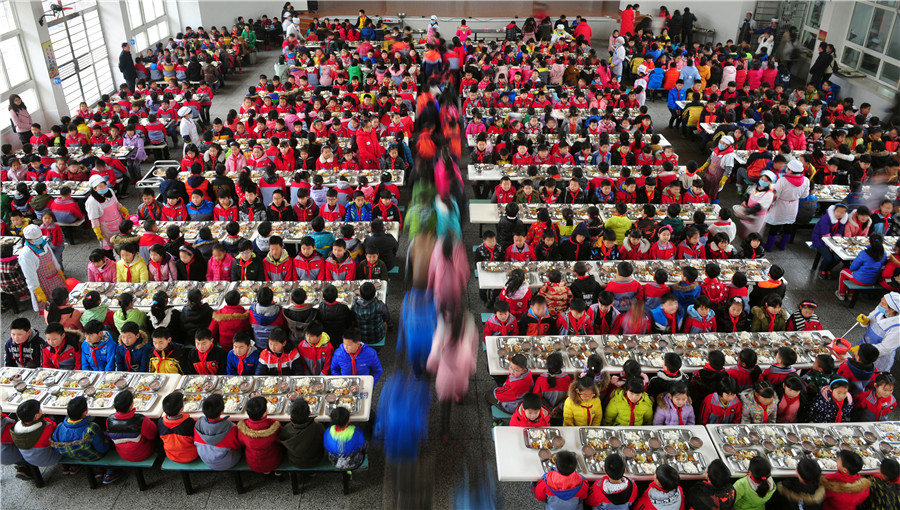 Nearly 1,000 students take lunch together in silence. [Photo by Peng Nian/for chinadaily.com.cn]
No talking, no whispering, only the clatter of the stainless cutlery... this is unlike most scenes typical of a boisterous dinner rush. Students from a boarding school in Xinzhou, a rural area in Central China's Wuhan, make silence seem extra-blessed during their dinner time, absorbing themselves in eating and only eating.
According to news portal cjn.cn, the 984 boarders including 94 day students in Xiangdong Elementary School, the largest rural boarding school of the city, share silent daily meals together.
At 11 o'clock on Tuesday morning, while the students were still in class, 22 "life teachers", selected by parents of the boarding students and are responsible for their life, were busily arranging dinner ware on 100 tables, with each able to accommodate 10 students.
Stir-fry pork and corn, fried cabbage, dried tofu with meat and lotus root soup with pork ribs, that's the lunch recipe this day. According to the school, the food ingredients are purchased from the market everyday to make sure they're fresh.