'Foreign son-in-law' assists local village in tourism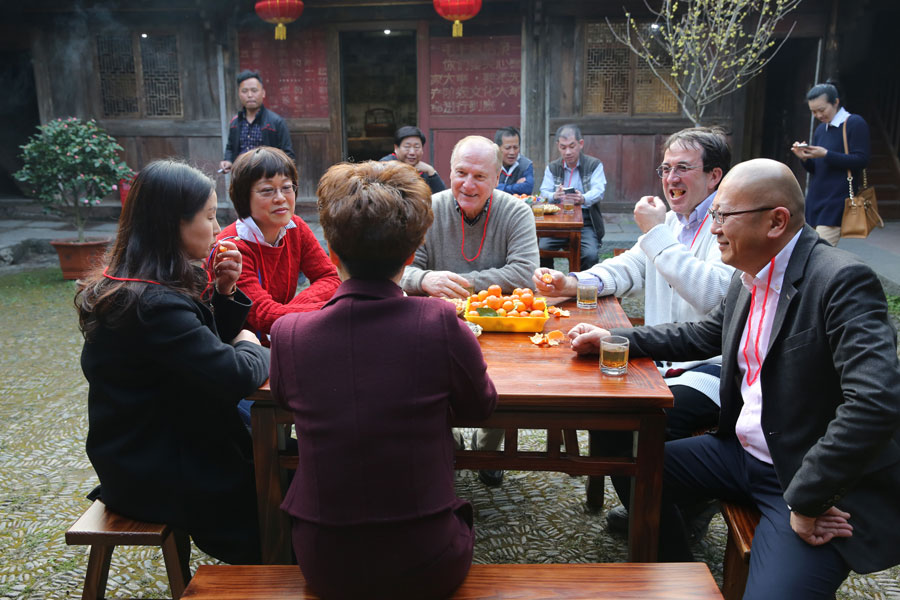 Ding Yimu (second from right) talks with villagers about their future plan at the Baisui temple in Hehong village, Zhejiang province. [Photo by Chen Yunsong/chinadaily.com.cn]
A Frenchman, whose Chinese name is Ding Yimu, has worked as an assistant to the head of Hehong village in Ninghai county of Ningbo, Zhejiang province, for one year, and his main job is to promote tourism.
Ding, 54, is married to a local woman and has lived in Ninghai for 15 years. Before coming to China, Ding has worked for large financial companies in both Britain and the US. Ding is running two companies in Ninghai.
Ding happily agreed to assist Gan Yunya, the village head, when Gan asked him to work for the village in Feb last year, and Ding received the letter of appointment on Feb 29.
Recently, Ding invited a dozen foreigners to the village to see the tourism resources there. He worked as a tour guide to explain the village's history, culture, ancient architecture and environment for the visitors.
The foreigners have decided to turn some old houses into home-stay inns and bars in the village, and a 300-square-meter farm house would serve as a meeting place for foreign businesspeople.
Ding has called on the villagers to transform their houses into home-stay inns for backpackers, and attract urban visitors to experience the rural life there.
"His plan suits our village development, and we are constructing the village to attract more tourists," said Gan who speaks highly of Ding.
Ding has also done a lot after becoming the assistant. He invited eye doctors to check the eyes of seniors, and more than 10 cataract patients have received treatments.
Last year, Ding also organized a three-day-long longevity-themed festival for the first time, which attracted about 50,000 people to the village.