Woman spends $726 per month commuting between two cities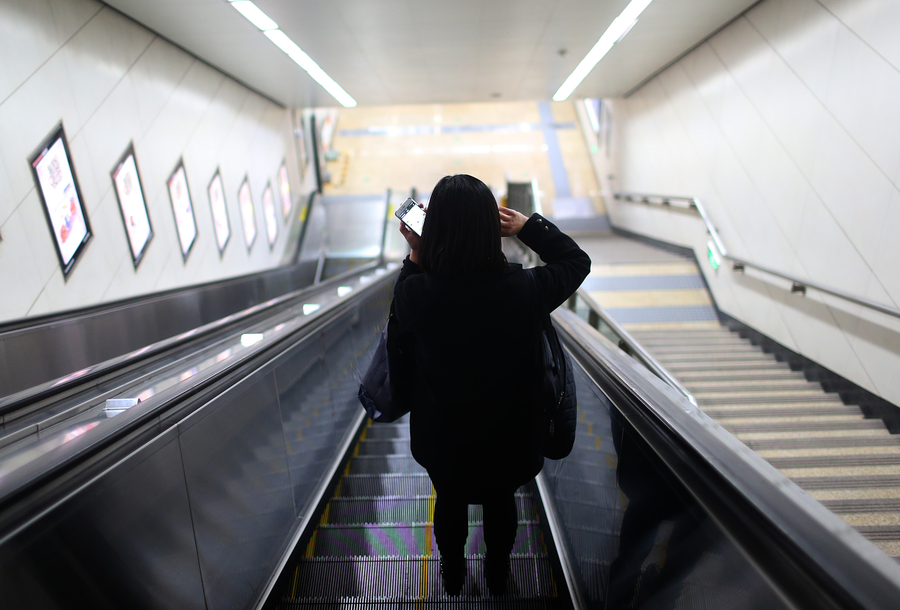 Jiang on her way to take the subway in Beijing, Feb 14, 2017.[Photo/VCG]
Rugged up in her coat in the chilled spring air, a drowsy Jiang Jingzi walks briskly towards the parking lot outside the railway station in Cangzhou, a small city in North China's Hebei province, on the night of Feb 15.
For the umpteenth time, Jiang returns home to Cangzhou late at night, after leaving work in Beijing.
For a whole year, Jiang kept up this daily routine. Rising at about 6:10am, taking a taxi to the railway station in Cangzhou by 6:50am and catching a high-speed train at 7:23am that delivers her to Beijing 58 minutes later. She arrives at her company at about 9:15am after completing the final leg on the subway.
The inter-city transportation has surprised many for its long distance, and high fees. It's 15 yuan ($2.20) for a taxi, 94.5 yuan ($13.70) for high-speed train and 4 yuan (60 cents) for the subway ride. That adds up to 225 yuan ($33) for a daily return commute, amounting to a monthly cost of almost 5,000 yuan ($726).
While this has caused many jaws to drop, Jiang Jiangzi smiles for her own reasons.
After her university graduation in Beijing in 2009, Jiang chose to stay in the city and became a "Beijing drifter".
She met her husband, who works for Beijing Hyundai Motor, at the end of 2011. By the time they were married, the couple had their own house near the East Sixth Ring Road, each spending about two hours on their journey to work.
In 2015, Jiang's husband was transferred to Cangzhou, leaving Jiang and their 1-year-old baby in Beijing.
Six months later, Jiang decided to start her two cities life. Before that, Jiang's husband had considered finding her a new job in Cangzhou, but Jiang refused as she didn't want to give up her career in Beijing.
"I was surprised by myself that I could hold on the trip for such long time," Jiang said, as she sorted out all the tickets she's collected in the last year.
"I admire what she has done for me and our family." her husband said. Jiang's persistence also won the support from her family.
Jiang said she was mindful of the high transportation costs, but said it was all worthwhile as long as the family could be together every day.