US-born panda bound for China on special flight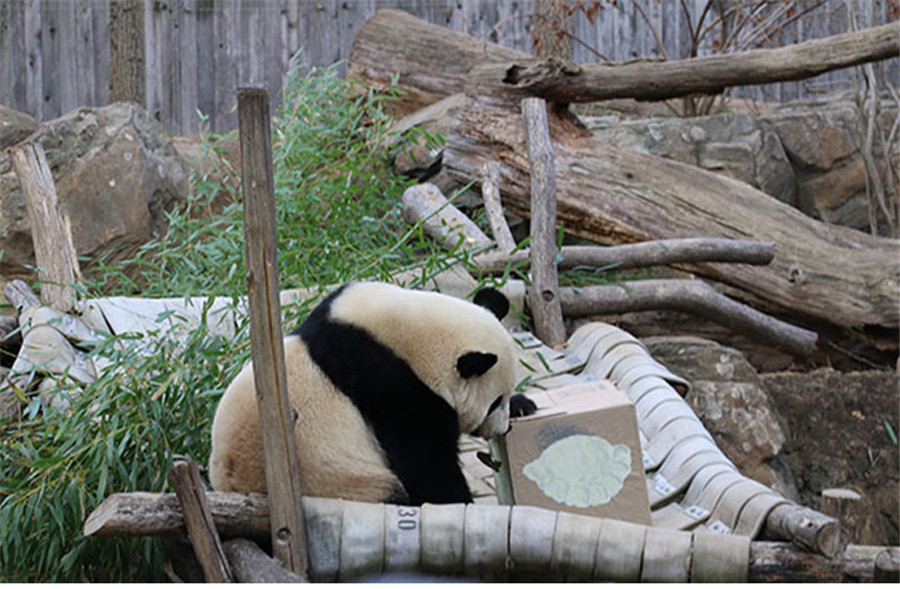 Giant panda Bao Bao at the Smithsonian's National Zoo enjoys her special treat at a dumpling party on Thursday morning. [Photo by Chen Weihua/China Daily]
A specially decorated plane will transport a giant panda that was born in the United States back to China on Tuesday.
Bao Bao, a female panda born in August 2013 at the Smithsonian's National Zoo in Washington, D.C., is the offspring of Mei Xiang and Tian Tian, who have lived at the zoo since 2000.
Under the agreement that is signed between China and foreign governments, any panda cub born to Chinese pandas that have been loaned to a foreign country must be returned to China within four years of its birth, according to Zhang Hemin, head of the China Conservation and Research Center for the Giant Panda in Sichuan province.
Logistics company FedEx Express will provide a special crate for Bao Bao, who will be transported onboard a custom-decorated FedEx Express 777 Freighter, dubbed the "FedEx Panda Express."
The direct charter flight will fly nonstop from Washington's Dulles International Airport to Chengdu in Sichuan.
A keeper and a veterinarian from the Smithsonian's National Zoo will accompany Bao Bao onboard the aircraft, continuously monitoring her during the trip and providing a supply of fresh water, bamboo and her favorite treats, including apples, pears and cooked sweet potatoes.
Upon arrival in Chengdu, Bao Bao will be driven to the China Conservation and Research Center for the Giant Panda's base in Dujiangyan. The panda keeper from the Smithsonian will remain with Bao Bao for a short time while she acclimates to her new home.
Eddy Chan, senior vice president of FedEx China, said this is the seventh time that the company has helped transport a giant panda.
The other occasions were from China to Toronto in 2013; to Paris in 2012; to Edinburgh, Scotland in 2011; to Memphis, US in 2003; to Washington, D.C. in 2000; and from Washington, D.C. and Atlanta, US to China in 2010.