Cold wave brings snow, wind, rain to much of nation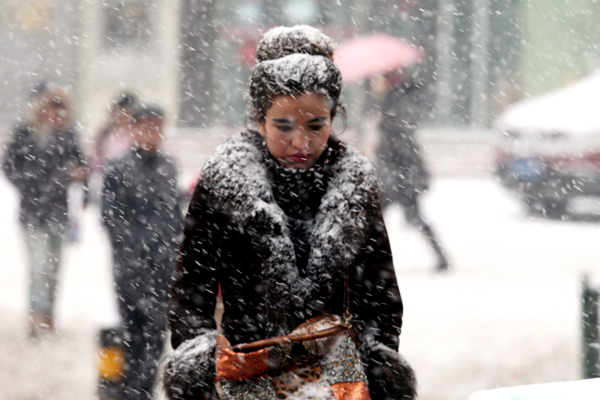 A pedestrian gets a dusting of snow in Urumqi, Xinjiang Uygur autonomous region, on Sunday. [Photo by Zhang Xiuke/China Daily]
Central and eastern China are feeling the effects of this year's biggest cold wave, which is forecast to last through Thursday, bringing low temperatures, strong winds and snow to many parts of the country, the National Meteorological Center said.
The center issued a blue alert for the cold spell, which began on Sunday. That's the lowest level in the four-tier color-coded weather warning system.
Temperatures are expected to rise starting Friday, but until then, heavy snowfall is expected in Shandong, Henan, Shanxi, Shaanxi, Gansu and other provinces.
"We haven't experienced such widespread and intense precipitation since last winter, and no province will be spared," said Sun Jun, chief forecaster at the center. "The snowfall is especially intense in provinces like Shanxi, Shaanxi and Henan, where it will impact traffic and farming. But the cold wave will have less effect in the southern provinces."
Between Monday evening and Tuesday, parts of Shaanxi, Shanxi and Henan are forecast to experience 20 to 25 millimeters of snow and accumulations of up to 15 centimeters in some areas.
Temperatures along the middle and lower reaches of the Yangtze River, as well as north of the river, are forecast to drop by 6 C to 12 C, and by as much as 19 C in some areas. Strong northerly winds carrying sand and dust are expected to sweep across the Xinjiang and Inner Mongolia autonomous regions and other provinces, Sun said.
In regions south of the river, heavy rainfall is forecast to hit Anhui, Jiangsu, and Hubei provinces for the next two days, with some areas getting 50 to 60 mm of precipitation. Temperatures in the region are forecast to drop by 4 C to 8 C, and up to 10 C in some areas.
Sun said the large-scale cold wave is the result of two cold fronts "working together". The stronger one cooled temperatures to around 0 C in northern China. This allowed the weaker front, after merging with warm, humid air currents from the south, to create precipitation across China.
Given that Tuesday marks the end of the 40-day Spring Festival travel period, Sun said those returning to work "need to be careful of slippery roads and catching cold".
On the bright side, the extra precipitation will help ease the winter drought, which is beneficial for the soil and winter wheat, he said. The precipitation also can help improve air quality by removing particulate matter from the air, he added.