The cafe where love is the main ingredient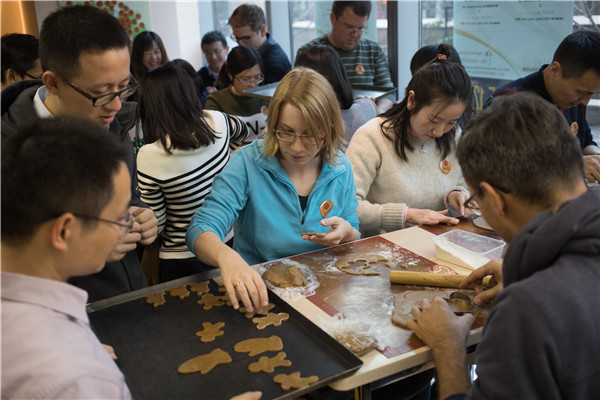 Employees of the Shanghai branch of the German company Brose participate in a team-building activity at the Village 127 French Bakery and Cafe. [Photo by Gao Erqiang/China Daily]
The Village 127 French Bakery and Cafe in downtown Shanghai had been operating in an understated way for about a year and a half before a media report sparked a storm of unfavorable comments from members of the public.
The report, published by the Shanghai Observer on Dec 1, World AIDS Day, was intended to combat HIV/AIDS-related stigma. It explained that most of the cafe's employees had been born to families affected by HIV/AIDS in the inland provinces, and stressed that the employees were healthy.
The story also featured heartbreaking accounts of how the "AIDS orphans" lived with the stigma of their parents' illness.
The cafe's owner, To Chung, said he had never deliberately concealed his employees' sad stories; he just didn't want them to be labeled as dangers to society.
"I hope the quality of the bread is the first draw for customers to our cafe and bakery, and in addition, some may want to show support after learning about our charitable activities," said the Hong Kong native and former Wall Street banker.
However, in the wake of the report, the bakery was bombarded with mixed feedback and business declined.
Heads held high
"HIV/AIDS is less of a medical problem in China nowadays, but people who are AIDS-impacted, irrespective of whether they or their parents are HIV-positive, are still stigmatized. We cannot control what people think about us, but we have to live with our heads held high," To said.
The cafe, located on West Nanjing Road, sells French bread, coffee and simple set meals. The main objective is listed on the wall: all of the profits go to the Chi Heng Foundation which helps AIDS orphans in rural areas, most of them orphaned in the 1990s when their parents died after being infected via transfusions of contaminated blood.
Chi Heng, or "wisdom in action", is registered as a charity in Hong Kong, and since 2002, it has helped more than 20,000 students from HIV/AIDS-affected families.
The cafe, a social enterprise initiated by the foundation, is named for the 127 children who made up the first group of AIDS orphans to receive an education in the first year of Chi Heng's charitable work.
Shen Jie, who works nearby, said she and her colleagues have dubbed it "the cafe of love" and visit often.
"The food rarely differs between restaurants, but the stories behind their food are very different, so I'll continue to support this great project," she said.
Zhang Jing, a barista, said many of the customers were regular visitors, but new faces used to appear every day, drawn by the cafe's food and charitable activities.
The situation changed after the Shanghai Observer report. Yu Fengjiang, a manager at the cafe, said thousands of negative comments appeared online and members of staff were plagued by threatening phone calls. People even visited to complain about the cafe's existence.
"In terms of revenue, we made about 5,000 yuan ($719) a day before (the report), but now it's around 3,000 yuan. We used to sell 40 to 50 set lunches a day, but the number has fallen to 30 or fewer. The fact that AIDS-impacted orphans work here leaves a shadow in some people's minds, although our workers don't have HIV/AIDS," Yu said.