Henan revokes fireworks ban three days after announcement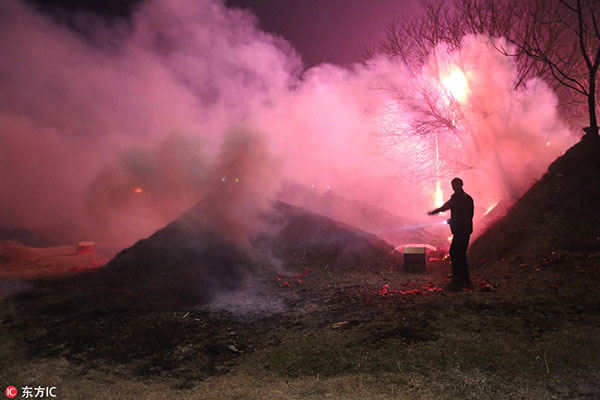 Fireworks recorded good sale during Spring Festival last year at Suntiepu township, Guangshan county, Xinyang city, Henan province. [Photo/IC]
A ban on fireworks in all of Central China's Henan province was withdrawn on Monday, three days after it was first announced.
The ban, issued by the province's environmental protection authority, was intended to help with the "adverse effect of severe air pollution in winter".
In response, a number of firework producers and vendors signed a petition that was posted online on Monday, saying the ban would cause them huge economic losses so close to the start of Lunar New Year celebrations.
Shao Fengshou, an official with Henan's provincial environmental protection department, said that as the ban would affect so many people, it should be implemented incrementally — in major cities and counties at first, before reaching rural areas.
He said it would be better if traders were given plenty of notice so they could prepare well ahead of any ban being introduced, but stressed the negative effect that fireworks have on air pollution.
According to Tao Ye, director of the provincial environmental protection department's air pollution prevention and control section, when fireworks are set off, a large amount of soot is released and PM 2.5 (airborne particles smaller than 2.5 micros in diameter that are hazardous to health) levels can reach 500 micrograms per cubic meter almost instantly.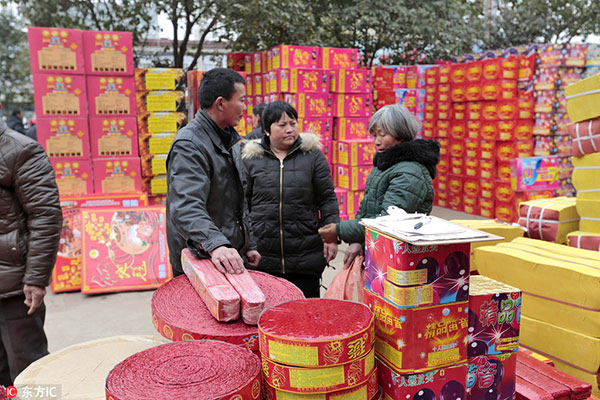 Customers buy fireworks at Suntiepu township, Guangshan county, Xinyang city, Henan province during Spring Festival 2016. [Photo/IC]