Stamps set to mark Year of Rooster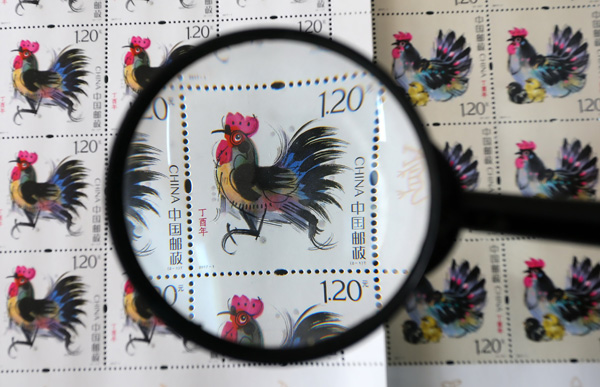 Rooster-themed stamps to celebrate the Year of the Rooster are displayed at a post office in Weifang, Shandong province, on Tuesday.Zhang Chi / For China Daily
China Post Group Co will release a new set of rooster-themed stamps to celebrate the Year of the Rooster based on the Chinese zodiac.
The set, which goes on sale on Thursday at designated post offices, includes two stamps and has a face value of 2.4 yuan ($0.34). People can also buy them through the company's official app as well as on its online shop on WeChat, according to an announcement by the company.
One stamp features a running rooster, while the other displays a hen with two chickens.
Han Meilin, designer of the stamp set, said many artists enjoy painting roosters because of their colorful feathers, adding that the animal is the most popular topic of folk paintings in China, according to a report by China News Service.
Han said Chinese have a special affinity for roosters because their silhouette resembles the shape of China on a map. "The stamps symbolize family harmony," he added.
Han, 80, who is well known for his paintings and sculptures, said he is passionate about the world, children and animals, despite the fact that he is getting older.
It is the third time that he has accepted the invitation to design Lunar New Year stamps.
A sheet of 32 stamps with a face value of 38.4 yuan costs about 150 yuan on the company's website, while a private business on Taobao, a popular shopping website in China, is selling the stamp sets for 25 yuan.
The newspaper quoted a senior stamp collector as saying that the value of the rooster stamp set is less than the monkey stamp set issued the previous year.
The rooster is the 10th Chinese zodiac in a 12-year cycle, with the previous Year of the Rooster being in 2005.
The coming Year of the Rooster starts on Jan 28, 2017, which is Chinese Lunar New Year Day, and ends on Feb 15, 2018.
The rooster is said to be the epitome of fidelity and punctuality, as it was used to awaken people for centuries before alarm clocks were invented.