Farmers to share in enterprise earnings
Villagers are set to get a bigger slice of the money earned from collectively owned assets, a move aimed at protecting their interests.
According to a guideline issued by the central government, the country will reform collective ownership in rural areas in the next five years to enable farmers to have shares in the operating assets in their villages.
Han Changfu, minister of agriculture, said at a news conference on Tuesday that the move is aimed at increasing the income of farmers by ensuring their rights to a share of the assets.
"It is now increasingly difficult for farmers to increase their income. The reform will help expand the income channels for farmers," he said.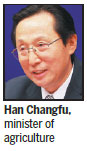 Earnings from such collective assets could come from factories, contracting out services or other enterprises started by the village.
Ownership of the collective assets was previously vague, so the campaign will specifically identify the assets' owners.
In the late 1970s, the country adopted a household contract responsibility system allowing families to run farms independently, even though the land remained collectively owned.
Han said allocating shares for the operating assets in the villages will be a priority, especially in the eastern areas where the rural economy is more prosperous.
By the end of 2015, more than 58,000 villages nationwide have provided farmers with shares from collective assets, with the total amount of money paid in dividends to the villagers reaching more than 41.1 billion yuan ($5.9 billion) that year.
The reform is also expected to give new stimulus to the rural collective economy as the lack of clear ownership makes it difficult for the assets to be employed in the market economy system, Han said.
Chen Xiaohua, vice-minister of agriculture, said the country is aiming to complete the evaluation of the assets in the next three years.
"We need to ensure that the ownership is clearly registered to individual farmers and that the collective assets will be in safe hands to prevent their loss," he said.
The country's rural economic organizations, including villages, have total land assets of 445 million hectares and 2.86 trillion yuan in the book value of assets, according to the agriculture ministry.