Railroads forecast to top 3 billion trips in 2017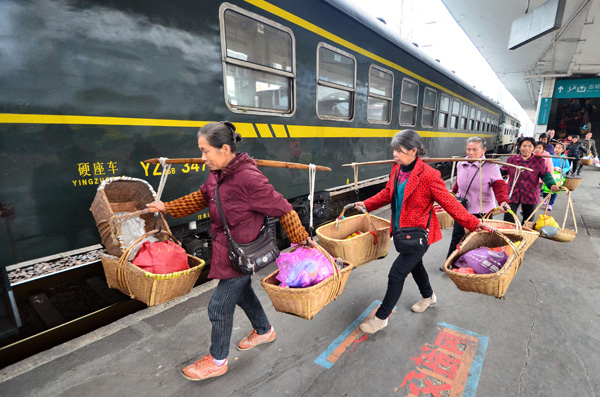 Vegetable farmers prepare to board a train in Chenzhou, Hunan province, late last month. He Maofeng/For China Daily
China's railways are forecast to handle 3.025 billion passenger trips in 2017, China Railway Corp said on Tuesday during its annual meeting in Beijing.
That would put the railroads over 3 billion trips for the first time.
In 2016, 2.77 billion trips were made on China's railways, including 1.44 billion trips by high-speed trains, which is more than 52 percent of the total, said Lu Dongfu, general manager of China Railway Corp, the nation's railway operator.
The record for a single day was 14.43 million trips, during October's Golden Week holiday travel rush.
In 2016, over 60 percent of tickets were sold online, and more than 40 percent were bought via mobile phones.
This year, China will add 2,100 kilometers of track, 2,500 km of double-track rail lines and 4,000 km of electrified rail lines.
By the end of 2016, the nation's rail system had reached a total length of 124,000 km, including 22,000 km of high-speed railway, which is 65 percent of the world's total of high-speed rails.
Four major high-speed lines were opened in 2016: the Zhengzhou-Xuzhou Railway connecting Central and East China; the Chongqing-Wanzhou Railway, the first high-speed connection to the Three Gorges area; the Kunming-Guiyang Railway, completing the link from Shanghai to Kunming; and the Kunming-Baise Railway, completing Kunming's connection to Guangzhou.
The newly completed Kunming-Shanghai connection, at 2,252 km, is the longest of China's east-west lines.
China also continued to make technological improvements and innovative breakthroughs.
"Last year, China's railway companies developed bullet trains with a speed of 350 kilometers an hour," Lu said, noting that China has the rights to the technology.
The number of trains transporting goods between China and Europe also increased dramatically. In 2016, 1,702 trains transported goods between those markets, an increase of 109 percent from 2015.
On Jan 1, a train with a full load of Chinese goods departed from Yiwu in Zhejiang province headed for London, a new terminus point for trains from China.
The train will travel 18 days and more than 12,000 km to reach London's Barking station.