Foreign or Chinese Santa? Check budget
Santa Clauses can be busy during the Christmas season - especially the foreign Santas.
Those with foreign faces are in high demand by luxury brands because they resemble the "actual" Santa Claus more than Chinese models. Less discriminating institutions and families usually choose a Chinese Santa.
"Our Christmas services ended a week early because all of our models were booked," said Hu Meng, a Shanghai-based agent for brands such as Cartier and Swarovski with foreign models.
All of the agency's models are foreigners, with the majority coming from the Netherlands and New Zealand. It even offers female Santas.
Most of the brands only want models to pose for pictures; some others ask their Santa Claus to pass out small gifts or greet customers.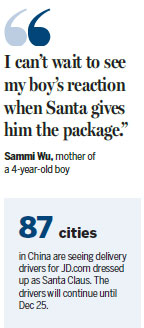 Hu said there's really no estimate on the number of models because they're stationed all over the country, including in Beijing, Shanghai and Shenzhen. Price ranges from 3,000 to 10,000 yuan ($430-$1,430) for a commercial event that usually lasts for several hours.
But among the foreign-faced Santas in Shanghai, the most "original" is believed to be the one who comes from Santa Claus Village in Lapland region of Finland.
It is said there are only 50 such original Santas from that special area, and Shanghai was lucky to have one again this year thanks to a Christmas activity by the Kerry Parkside development.
"This year, we have a new kind of service that provides children with the opportunity to receive gifts from the Santa," a customer service staff member surnamed Feng said on Friday.
The woman, who declined to give her full name because of company policy, said the shopping mall hired the Santa to work from 1 pm to 9 pm, Friday through Sunday.
Customers can chat with and even receive gifts from this Santa - for a price. He is not just a random expat dressed in red, Feng said, but is someone who "has been trained in the role, with a certificate for it".
Yet for institutions on a tighter budget, a Santa born in China will do just fine.
A property management company in Shanghai offers some help giving out gifts to children from their parents. A Chinese Santa will come to a resident's home.
"I can't wait to see my boy's reaction when Santa gives him the package," said Sammi Wu, mother of a 4-year-old boy.
Santas played by family members bring joy, too. Liang Yu, a father in Beijing, has been dressing up for three years.
"It is fun, and is a unique way of bonding between me and my son," he said. With the white eyebrows and beard covering much of his face, and an improvised Santa voice, he has succeeded so far.
JD.com, an online shopping platform, is dressing up its delivery drivers as Santa Clauses in 87 Chinese cities from Dec 21 to 25 - and they'll be working extra hard to ensure customers' Christmas gifts arrive on time.