Chongqing collector goes for piano record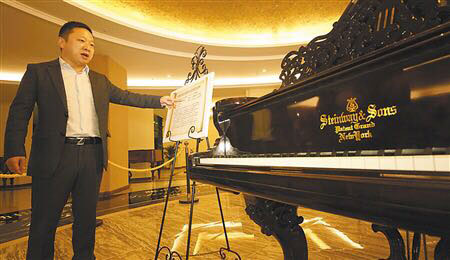 Ye Hao with one of the 300 pianos he has collected which are now on display at the Chongqing Huangjueping Piano Musiem in Southwest China.[Photo by Li Hua/ Provided to chinadaily.com.cn]
One man's passion for music has led to the world's biggest collection of pianos under one roof.
The Chongqing Huangjueping Piano Museum, opened last year, has recently added a second exhibition hall to house more than 300 pianos from all over the world. It claims to be the largest of its kind in the world.
The museum is now applying for a Guinness World Record for being the largest piano museum in the world.
All these pianos belong to the local curator Ye Hao.
Ye started playing piano at 11 and then went to Sichuan Conservatory of Music. He started a music company after graduation. He got his first vintage piano in 2006 from a German friend who left it behind when leaving China. After that, Ye went on collecting more and more pianos.
Collecting pianos hasn't been easy. It takes Ye months or even years of negotiations with previous owners. Ye was in talks with the descendants of French composer Charles-Camille Saint-Saëns for five years to acquired his piano. Saint-Saëns (Oct 9, 1835 – Dec 16,1921) was an organist, conductor and pianist of the Romantic era, who composed The Carnival of Animals. Made in 1855, his three-meter-long Chickering & Sons piano is now one of the treasures of the museum.
The idea of building a museum to house all his pianos and share the beauty of the instrument came to Ye in 2012. He hopes to promote piano culture in Chongqing.
Located in Jiulongpo District, southeast of Chongqing, Huangjueping Piano Museum is one of the district's feature projects in the developing "Piano Capital".
The museum collection includes Chickering & Sons, Steinway, Bechstein and other world famous pianos, most of which are vintage pianos manufactured between the middle of 18th century to early 20th century.
Visitors can appreciate all of these pianos and learn about the stories behind the instruments. In one section, they are encouraged to play the pianos of the museum. There is also an area displaying the history of the piano.
In April, the museum held an oil painting event and many visitors created their own paintings of pianos while listening to piano music.
In October, the finals in the Asia Pacific Championship the Robert-Schumann International Youth Piano Competition were held at the museum. The winners will compete in the world finals in Dusseldorf, Germany in March.
Contact the writer at tanyingzi@chinadaily.com.cn