Lonely mother hires 'daughter' for a trip to Sanya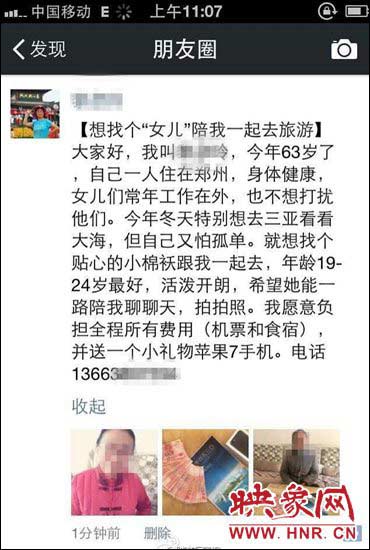 A screen shot of dama Li's recruitment for Sanya trip with a "daughter".
Nowadays, the internet is usually one of the first places a lonely heart turns to as the following story shows.
A 63-year-old retired woman in Zhengzhou, Central China's Henan province made headlines two days after she posted an advertisement on her Wechat page, in which she said she wanted to find a young female companion for a trip to Sanya, China's Southern Hainan island, Zhengzhou-based Dahe Daily reported.
In the advertisement, the Chinese dama (Chinese term for middle-aged and elderly women) surnamed Li said she is in good health, and she was particularly looking forward to a sea trip this winter.
"I have a daughter who works outside, and I don't want to disturb her. But I dread traveling alone, so I am looking for a sweet, happy young woman, preferably aged between 19 and 25 to travel with me. Hope she could chat with me, take photos with me."
At the end of the ad, dama Li extended her sincerity by saying she would cover all the expenses of the trip, including accommodation and air tickets, plus an iPhone 7 as a bonus gift.
Dama Li told Dehe Daily that she did not expect her advertisement to receive so much attention. "My phone keeps buzzing all the time."
However, some people question the authenticity of Li's advertisement by saying it might be organized by travel agencies aiming to boost Sanya tourism, or even served as a promotional ad for real estate on the island.
Li refuted the speculations and said all she wants is just to find a sweet "daughter".
According to the Dahe report, dama Li's husband, who is still working as a senior engineer, rarely has time to travel with her, and their only daughter has emigrated to Canada.
"If there was a companion on the trip, she could help me take a lot of photos," Li said. As a reward, dama Li said she already bought an iPhone 7 and she will take good care of the "daughter".
But Li's recruitment for a daughter has also received as many online mockeries as positive feedback.


"What a lonely rich woman. Here is my phone number XXX, mum," a web user named Xiaolu Mecheal commented.
Yixiaowan, another web user, said the age requirement has "put the women above 25 into an embarrassing position."


Meiyourouhenduodexiaoxin, a woman claiming that she meets all the requirements, said "I could also bring my boyfriend. Wouldn't it be better to travel with a whole family?"