Anything but the bear necessities for Hong Kong's pandas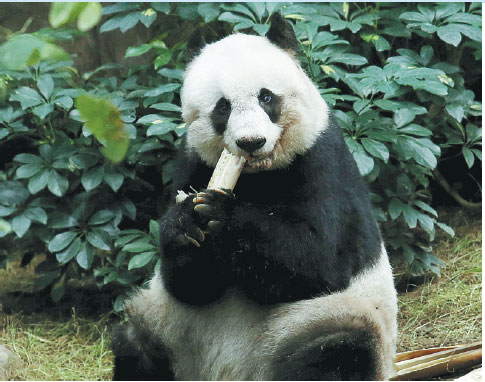 Jia Jia was euthanized in October at the age of 38-equivalent to 114 human years. She reached near-iconic stature in Hong Kong's popular culture during the 17 years she spent at the park, and people still leave bouquets and cards near a monument erected in her memory.
The animal trainers at Ocean Park have learned to be creative to ensure that their three special guests remain on top form. Willa Wu reports.
From the moment he steps out, you can see he's a star. Le Le, the 125-kilo male giant panda who presides over the panda house at Hong Kong's Ocean Park, has a flair for showmanship.
He climbs the rockery, glides down the gentle slopes and gestures that he wants to play with his toys; one might think he was born to stand in front of a camera.
In zoological circles, it's widely believed that behind every successful panda, there must be a good trainer. But that hardly seems the correct word because Matt Leung Ka-lun, a terrestrial life-science supervisor, doesn't conduct any training. Instead, he is content to take notes.
While tourists happily snap photos of Le Le eating bamboo shoots, Leung observes just how much the panda eats, which side of his jaw he uses to chew and other important clues about his health.
"Observation is a priority in my job. It plays an important role in helping to better attend to the pandas," he said.
Leung previously noticed that Ying Ying, Le Le's female companion, only chewed with the left side of her jaw. After several examinations, the park's vets discovered that the teeth on the right side of her jaw were decayed, and set about fixing the problem: "To prevent further decay and to minimize the impact on her diet, we treated the affected area with fillings. She can now chew on both sides."
The Hong Kong native has been with the park since 2010, when he returned from the United States with a bachelor's degree in psychology. His first job was looking after An An and Jia Jia, the park's senior pandas, which were sent as conservation ambassadors by the central government to mark the establishment of the Hong Kong Special Administrative Region in 1997.