Factory to stop work to produce special cup for autistic UK teen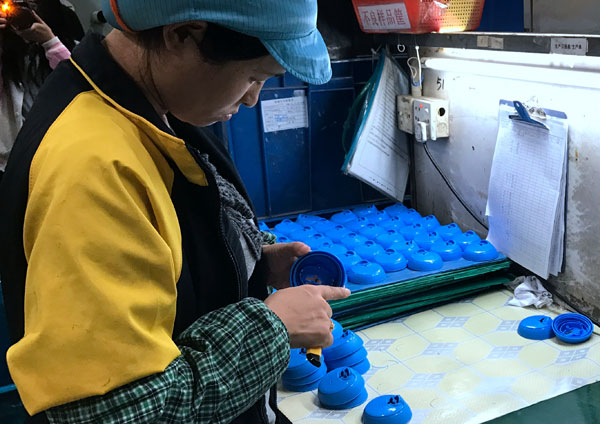 A worker makes cups at Jackel China, in Guangdong province, on Tuesday. The company will shut down normal production to make special cups needed by an autistic teen in the UK. Zhou Mo / China Daily
A Chinese factory is partly shutting down its normal business to help an autistic British teen by making a toddlers' cup that he is dependent on, but which has long been out of production.
Jackel China, in Dongguan, Guangdong province, will halt the normal operation of three of its machines for two to three days. They will be used to make 500 to 1,000 blue-green Tommee Tippee cups. The teen's dad, Marc Carter, said it is the only cup his autistic son Ben will drink from.
The cup used by 14-year-old Ben was purchased 12 years ago and is now worn out. His father issued an appeal to find a replacement.
Manufacturing of the two-handled cup was halted in 2003. It was originally produced by Jackel China under contract from UK-based Mayborn Group, which was acquired by Shanghai Jahwa (Group) Co in April.
Catherine Lee, the company's head of Asia operations and procurement, said she heard of Ben's story on the internet and also from her colleagues in the UK.
"It only took us two days to make the decision and we managed to produce 50 samples within 10 days," Lee said. "We are really happy to do the job. It is something full of love and with great value."
She said samples have been sent to Ben's father, who will check the color. Once confirmed, the factory will begin production. The special order is to take a week, and the company will pick up the 20,000 yuan ($2,900) cost. "We hope to send those cups to Ben on Christmas Day or on New Year's Day as a gift for him," she said.
Zhu Yingming, employed by the factory for 14 years, said he was proud to play a part in the campaign. "I could still remember the cup's appearance when I was told to search for its mold in our warehouse. It only took me 20 minutes to find it among more than 1,000 molds," he said.
Many Chinese netizens have praised the company for spreading "positive energy".
"Although cost of the cups is not high, the campaign plays an active role in enhancing our country's international image. Meanwhile, there are many autistic children in China. We need also to pay more attention to them," user XiwohouLV posted online.
Ben's father Marc tweeted last week: "Can't believe Tommee Tippee have managed to find the mold and are going to make me so many. They have been truly incredible, such a genuinely lovely and caring team."
sally@chinadailyhk.com