Europe looks for new ways of tapping Chinese tourists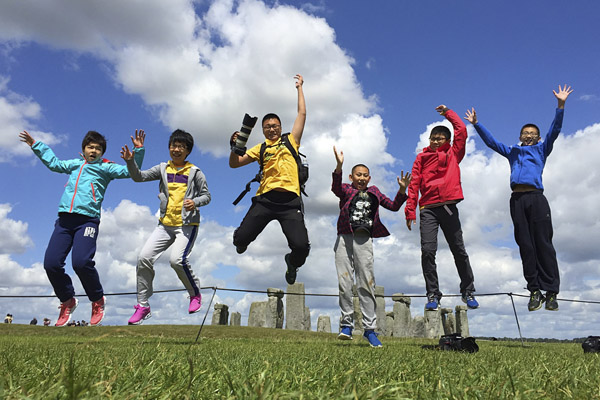 Seeing the size and the ever-changing nature of the outbound tourism industry in China, European destinations are looking at new ways to tap into the Chinese market.

Israel introduces a 10-year multiple-entry visa for Chinese, replacing a 30-day single-entry visa
Seeing the size and the ever-changing nature of the outbound tourism industry in China, European destinations are looking at new ways to tap into the Chinese market.
The Austrian city of Innsbruck - located in a broad valley between high mountains, halfway between Munich, Germany, and Verona, Italy - launched a business-to-consumer campaign last year in a bid to attract more Chinese visitors.
As increasing numbers of Chinese travelers source their travel information through word-of-mouth and word-of-mouse, Innsbruck's tourism board invited some key Chinese influencers to the city in a bid to boost local tourism, said Peter Unsinn, the board's marketing manager.
"They were posting their experiences on Chinese social media platforms such as Weibo and WeChat, and recording videos about the city in their own ways, which are now used for marketing within China," he said.
The city also approached some Chinese actors, actresses and models, who have several million followers, who also posted their experiences of Innsbruck online.
"Through this campaign, we have received more than 50 million views about our city, its history and the activities we offer," Unsinn said.
While European nations are making serious efforts to snatch a piece of the Chinese outbound tourism pie, countries like Israel have also taken steps to increase the number of Chinese visitors to the country.
Earlier this year, the Israeli government introduced a 10-year multiple-entry visa for Chinese, replacing the previous 30-day single-entry visa.
"This not only allows tourists to visit for longer and multiple times, but also allows them to go on extensions to Jordan and Egypt, and return to Israel without problems," said Ben Julius, founder of Tourist Israel, adding that the government also canceled fees required for groups from China visiting Israel in order to streamline and lower the costs of visiting.
On a nongovernmental level, new direct flights were launched by Hainan Airlines from Beijing to Tel Aviv this year to compete with El Al, an Israeli airline that was previously the only airline operating that route. Cathay Pacific is expected to start flying from Hong Kong to Tel Aviv next year, offering greater connection options from China.
"Many sites in Israel have begun to make signs and offer information in Chinese, while hotels are beginning to offer food to suit Chinese guests and rooms with small modifications to accommodate the market," Julius said.
According to James Kennell, principal lecturer of tourism at the University of Greenwich, the key for destinations and tourism businesses as the Chinese outbound tourism market matures, is to develop better knowledge of the Chinese tourism market through research and partnerships.
"The destinations that are better able to meet the needs of a sophisticated and increasingly diverse Chinese market will benefit from access to the huge and growing market," he added.