Top court explains pardoning of Nie Shubin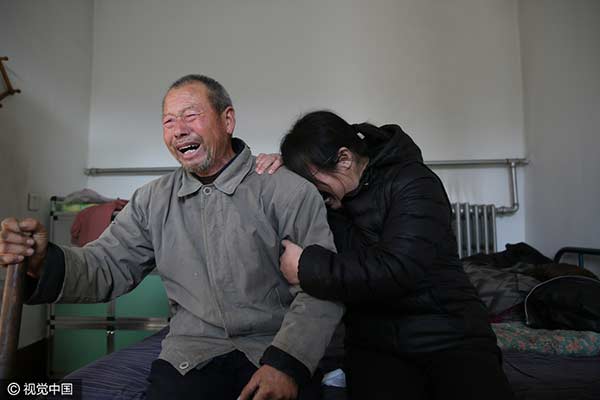 The father and sister of Nie Shubin react after hearing Nie is exonerated in Shijiazhuang, Hebei province, Dec 2, 2016. [Photo/VCG]
China's top court said on Friday that it had pardoned Nie Shubin, who was wrongfully executed more than 20 years ago, based on the legal principle that there should be "no punishment in doubtful cases".
The Second Circuit Court, a branch of the Supreme People's Court in Shenyang, capital of Liaoning province, announced Nie's acquittal on Friday morning.
His mother, Zhang Huanzhi, and the family's lawyer, Li Shuting, were among the observers that witnessed the announcement.
Nie, a worker from Shijiazhuang, Hebei province, was sentenced to death and executed in 1995 for the rape and murder of a woman in 1994.
"We gave the announcement strictly in line with laws and evidence," said a judge of the top court. "We cannot punish someone or name him or her as a criminal if we have no evidence or insufficient evidence."
After a thorough investigation, the court found that it was unclear where Nie was at the time of the offense or what murder weapon had been used, the judge said.
Interrogation records made following Nie's arrest were also flawed, the court said, meaning they could not be used to prove the his guilt.
"The chain of evidence in the case was not strong," the judge said.
In response to the length of the review and investigation, the court attributed this to the complexity and age of the case.
"All procedures of this retrial have ended, and we've informed Nie's mother that she has the right to ask for State compensation," the court said in a statement.
It added that follow-up work, including determining accountability, will be started in accordance with the law.
Mo Hongxian, director of the criminal law research center at Wuhan University and a witness to the announcement, said it was significant for the country.
"This case reflects China upholding the rule of law. It could be viewed as a milestone in criminal law research," she said, adding that the verdict also reflects well on the credibility of the country's judicial system.
Wang Minyuan, a law professor specializing in criminal procedures at the Chinese Academy of Social Sciences, also applauded Friday's ruling.
"Justice prevails. It will push forward judicial progress in China," Wang said.