The social enterprise empowering students in Yunnan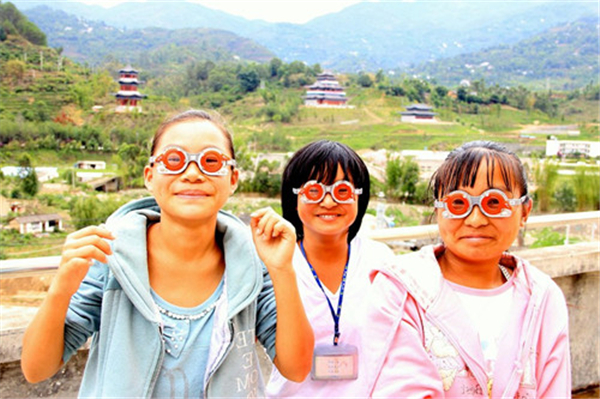 Students in rural Yunnan giggle as they pose for a photo while donning clunky, orange phoropters used to perform eye exams. [Photo provided to China Daily]
Andrew Shirman had just graduated from Boston College with a degree in Philosophy in 2010 when he set his eyes on China.
Years earlier, while in High school, Shirman had developed a curiosity with the country after visiting Beijing's Great Wall, Xi'an's Terracotta Army and the high-rise metropolis of Shanghai on a cultural trip.
After happening upon an opportunity to teach in the country with the then-relatively-new Teach For China (TFC) fellowship – which was established in 2008 and encourages its fellows to immerse themselves in local life - he soon found himself boarding an aircraft with a one way ticket to the southwestern province of Yunnan.
Little did he know that, six years later, he would be sat in an office in Beijing as an advisory board member of the United Nations Development Programme in China and a Global Shaper of the World Economic Forum, heading up a nonprofit organization dedicated to providing low income students with the eyeglasses they need to succeed in school.
TFC placed Shirman in a middle school in rural Yunnan, and it was there that he met Li Zhongliang - the boy partly responsible for bringing out Shirman's inner philanthropist.
Despite his poor vision, Li had excelled at primary school and continued to impress with top grades at the start of middle school. As work intensified, Shirman, who was, by then, his English language teacher, noticed Li squinting harder by the day. It was clear he couldn't see clearly.
Shirman sat Li, whose enthusiasm seemed to be draining at an alarming rate, at the front of the class. It was a temporary remedy to a permanent problem, however, and by the end of the year, Li was nowhere to be seen on the school's premises.
"It made an impact on me," said Shirman, in an interview with City Weekend. "I think that one simple thing could have stopped him from dropping out of school."