App gives square dancers an edge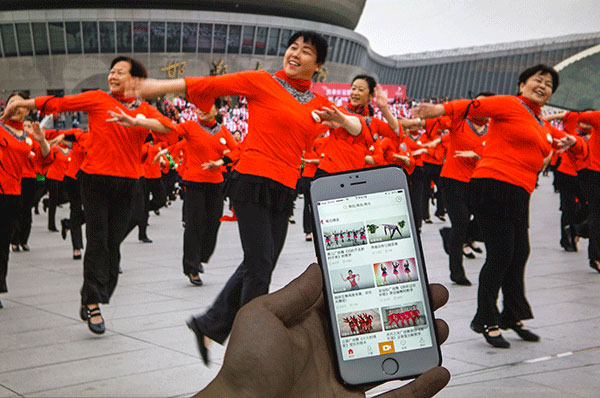 Public square dancing is very popular among women who want to live a more healthy and leisurely life. ZHANG XIAOYU/CHINA DAILY
For a dancing auntie who yearns for the flowers, cheers and attention that a pop star gets, there's now an app.
The app caters to eldery and middle-aged women who live a more leisurely life and like to dance in public squares during their spare time. It offers services such as free dancing tutorials and a communication platform to connect dancers in local communities.
Tangdou Square Dance, a Beijing-based startup and developer of the app, announced its latest round of financing of $5 million on Thursday. It has received funding totaling $25 million so far.
Daily active users of the app have reached more than 2.5 million, with monthly active users hitting nearly 40 million, according to the company.
Zhang Yuan, founder and CEO of Tangdou, said the money that has been raised will be invested in products and development.
"We aim to build an entertainment and communication platform. I hope using Tangdou will become part of their lifestyles."
According to Zhang, the company's revenues are expected to come from fees collected from payments made by app users to buy gifts, products and services.
Yu Huiping, 53, is a frequent user who learns new moves via tutorials on the Tangdou app.
"Dancing can help me relax and improve my health. I dance almost every evening. And I like talking to other dancers about new moves. That's why I find Tangdou to be useful," she said.
Across China, millions of women enjoy gathering at public squares, exercising in groups in the morning and at night. Public square dancing is among their most popular activities.
A report released last year by Hangzhou Liumu Information Technology, the operator of Darfoo, an app similar to Tangdou, estimated that business related to public square dancing is worth about 1 trillion yuan ($145 billion) in China.
Darfoo founder Fang Hui said in the report: "The dancing aunties actually hold the purse strings in Chinese families. ... There is an enormous business potential behind the dancing craze."