Astronauts grow lettuce in space lab
One of the most impressive parts of the movie The Martian is when the lead character-an astronaut stranded on Mars after his team assumed him dead-succeeds at growing potatoes to keep himself alive while waiting to be rescued. Now, Chinese scientists are testing the idea by attempting to grow vegetables in the Tiangong II space lab.
"If people live on Mars someday, they will need to grow grain and vegetables there," said Zheng Huiqiong, a researcher at the Chinese Academy of Sciences' Institute of Plant Physiology and Ecology in Shanghai.
"On Earth, 95 percent of the energy that keeps humans and animals alive is provided by plants, which transfer solar energy to chemically stored energy. So, as long as you can grow plants, you can live wherever you want in space, as plants are the only means to transfer the sun's energy," Zheng said.
The plant chosen for the Tiangong II space lab experiment is lettuce.
Wang Longji, an associate researcher at the Astronaut Center of China, said one main reason for choosing lettuce was its 30-day growth cycle, which suits the duration of the task.
Tiangong II was launched in mid-September to replace the Tiangong I space lab, which retired in March. On Oct 19, Tiangong II docked with the Shenzhou XI manned spaceship carrying two astronauts for a 30-day stay.
The astronauts started the plant-growing experiment on the second day after docking. They first set up a culture system composed of small plastic units. After watering the units and planting seeds, they covered the surface with plastic wrap.
"On entering the space lab on the fifth morning, we found the seeds had germinated. We were happy, so we took a lot of photos and informed ground staff," said Jing Haipeng, commander of the mission.
Red wave lettuce has been cultivated on the International Space Station, and NASA released a video of US and Japanese astronauts eating the space-grown lettuce in August last year.
Xinhua contributed to this story.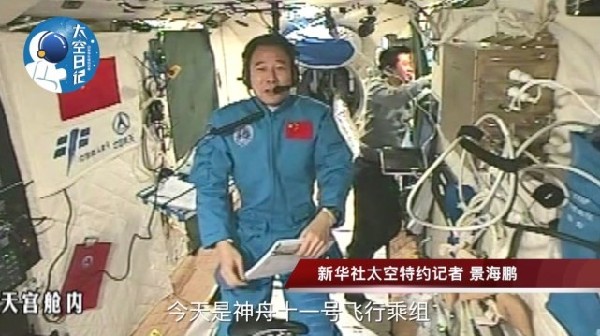 Xinhua special correspondent Jing Haipeng talks to the audience in space.