Five silkworms cocoon in space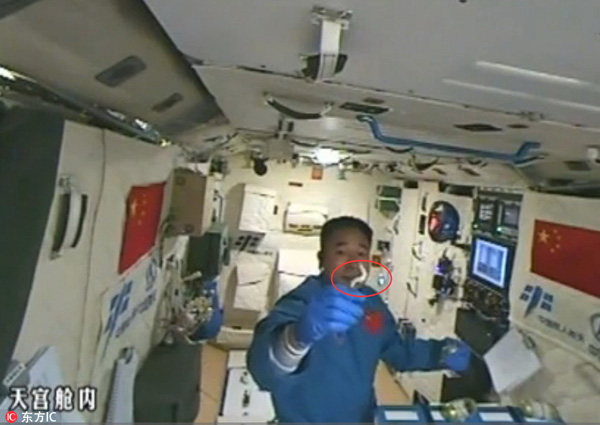 Astronaut Jing Haipeng takes care of six silkworms taken aboard Tiangong II on Oct 19, 2016. [Photo/IC]
Five out of six silkworms taken aboard the Tiangong II space lab have spun and cocooned, said a leading scientist from China Agricultural University involved in the experiment, according to Legal Evening News.
The silkworm experiment is one of the three projects designed by Hong Kong middle school students to be carried out in space, aiming to study the insect's spinning, cocooning and transformation in microgravity.
Zhang Long, an entomologist from the College of Plant Protection under China Agricultural University, has been invited to join in the experiment to cultivate, breed and select the silkworms taken into space, and develop special feed.
One goal of the experiment is to know if the silkworms will spin in microgravity environment and if the spinning is related to the gravity, Zhang said.
He said that so far five silkworms have spun and cocooned, but he did not know the latest situation, because the astronauts were busy sending back new reports, and his team would check the insects' situations after they are back.
Earlier, the footage released by China Central Television showed astronaut Jing Haipeng playing with the silkworms, and some silkworms cocooned in their containers.
"We will wait for them to get back to Earth to check if the spinning has changed or not, and if the change is related to gravity. The research will help improve the silkworm breeding technology," Zhang said.
This experiment will allow Chinese scientists to study and compare how space affects the silkworms' growth patterns.
The six silkworms with "whiter skins" and "larger shape" were selected from nearly 4,000 silkworms after extensive training before starting their outer space travel.
These silkworms were chosen for this experiment because they are from a representative species widely raised in China and could withstand harsh environment, Zhang said.
His team has done a lot in standardizing the breeding procedures, producing feed and control viruses. "The most difficult thing is to prevent viruses from going into space as they could harm astronauts," Zhang said.
The six silkworms, "dwelling in" separate containers made from aerospace material, are wrapped with aerospace-used sponge, to help them better adapt to the environment.
Scientists prepared feed with mulberry leaf taste for the worms in the caps at the containers' two sides which could be changed easily by astronauts. The containers also have cloth on walls for silkworms to climb on and some holes for air circulation and cleaning up the feces.