EU-China fair bolsters intl relations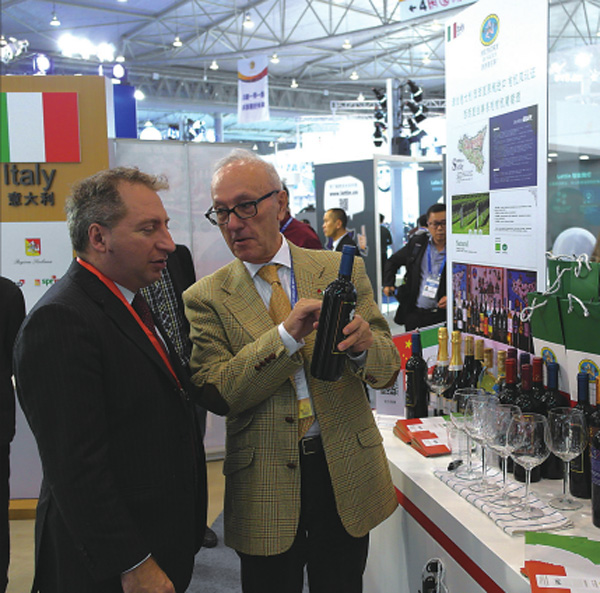 Italian delegates and wine exhibitors are optimistic with their products' future in the emerging western Chinese market with Chengdu as its hub. [Photo/China Daily]
He said he had made connections with more than 200 people by exchanging business cards and making WeChat friends at the fair. A few companies showed interest in cooperation with his company and were invited to his wine club in Chengdu to discuss potential partnerships, Lo Castro added.
At the fair's theme forum on green economy development between China and EU, more than 500 participants, including important governmental officials and industrial leading figures, discussed how to deepen communication and cooperation between China and Europe for more environmentally-friendly economic development.
Mariella Lo Bello, vice-president of the Italian Sicilian region, said at the forum that the region would cooperate with China, especially Sichuan, in its internationalization and development plans. She hopes the Sicilian region can provide companies from China, especially Sichuan, with initial capital for their production in Sicilian industrial area.
Lo Bello headed company delegations, which were mainly from the food and beverage and tourism sectors, and officials from the Sicilian region attended the fair. It was the third time the region participated in the fair in Chengdu, according to the event's organizers.
China and Italy have established strong ties as two important countries on the east and west sides of the Silk Road, Lo Bello said, adding that she hopes the two countries will have more cooperative projects in fields such as nanotechnology and biological medicine to promote innovation-driven development.
Russian officials and company executives also participated in the fair. More than 30 Russian corporate representatives from sectors such as industrial manufacturing, science and technology, handicrafts and textiles negotiated with companies in Sichuan for cooperation.
Chengdu has insisted on reform, innovation and opening-up in recent years and achieved some success, local officials said, adding that through the EU-China Business and Technology Cooperation Fair, contact and cooperation between Chengdu and Europe has increased.