Jinan residents most tolerant of smog: Report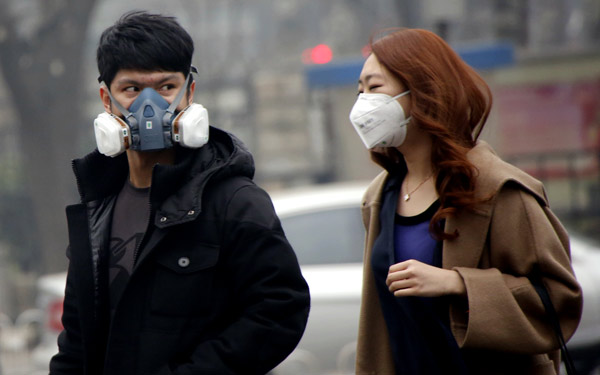 A couple tackle the pollution in a shopping district amid heavy smog after the capital issued its first ever "red alert" for air pollution on Dec 8, 2015. [Photo/Agencies]
Residents in Jinan, capital of East China's Shandong province, are the most tolerant of smog, which has almost no impact over residents' willingness to travel, according to a report released by domestic map and navigation provider amap.com on Wednesday.
The report on transportation in major cities in China during the third quarter of this year was jointly compiled by Amap, the China Academy of Transportation Sciences, Qinghua University and Aliyun, Alibaba's cloud computing unit.
Covering 151 Chinese cities, the report analyzed the relevance of those who drive to scenic spots during weekends and the local air quality.
In Jinan and Heze in Shandong province, Xianyang in Shaanxi province and the national capital Beijing, the number of people driving to travel is largely the same during smoggy weekends compared to clear weekends. Another two cities in Shandong, Zibo and Dongying, are also among the top 10 cities where people are least affected by smog.
In contrast, people in Urumchi, Xinjiang Uygur autonomous region, are the most sensitive to air pollution, the report shows. Self-driving trips in the city drop by more than 30 percent when there is smog.
Top 10 cities for tolerance of smog, Q3 2016
1. Jinan
2. Heze
3. Xianyang
4. Shangqiu
5. Zibo
6. Beijing
7. Dongying
8. Langfang
9. Cangzhou
10. Xuzhou
Jinan also ranks first on the list of "cities to escape", which evaluates cities by traffic congestion, municipal GDP, average monthly salary, air quality and housing prices. Next on the list are Shijiazhuang of Hebei province and Zhengzhou of Henan province, while Beijing is in fourth place.
Southern coastal cities, including Quanzhou, Shenzhen and Fuzhou, are crowned as the most livable cities.
In terms of traffic conditions, Harbin in Northeast China's Heilongjiang province became the most congested city in China, the second time since 2014. It takes Harbin residents more than twice the time to reach their destination when there is a traffic jam in the city.
From July 1 to Sept 30, the average speed for vehicles in Harbin was about 20 km per hour and the city suffered an average 470 kilometers of congestion every day. This is mainly the result of road repairs and subway construction, the report said.
Traffic conditions in Jiangsu and Zhejiang province are comparatively the best nationwide.
Most congested cities in China, Q3 2016
1.Harbin
2.Jinan
3.Beijing
4.Kunming
5.Lanzhou
6.Dalian
7.Chongqing
8.Guangzhou
9.Xi'an
10.Qingdao