Man born in poor family now donates millions to poor people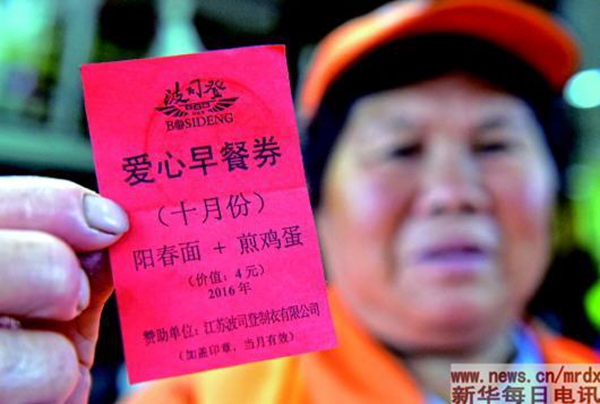 A sanitary worker shows her free breakfast coupon at a restaurant in Gaoyou, East China's Jiangsu province, on Oct 22. [Photo/Xinhua]
A man, on behalf of his company, has bought breakfast for all sanitary workers in Gaoyou, East China's Jiangsu province, in the last three years, providing a total of 41,000 bowls of noodles and fried eggs in the morning for nearly 400 workers at 20 noodle restaurants across the city,as Xinhua News Agency reported.
While the city is still sleeping, Bai Yuhua, 58, is busy cleaning a section of Yangzhou-Gaoyou expressway.
"I live far away, so I wake up at 4:20 am and get down to work at 5 am every day. It is usually nearly 7:30 am when I finish work and have breakfast," said Bai.
She used to bring breakfast with her but it would turn cold by the time she finished her work. There was no place to heat the food and she did not like spending more money on hot breakfast. The situation lasted for almost 20 years.
At a noodle restaurant named "Tiantianjianmian" on Dieyuan road, 48-year-old Gao Lianzhen and 43-year-old Zhang Weihong, both sanitary workers, showed their free breakfast coupons before having their meals after finishing their morning work.
The red coupon with a seal of the donating company read, "October 2016, a bowl of noodle and a fried egg valued at four yuan ($ 0.59)". The company has given more than 41,000 such coupons to sanitary workers and the initiator of the charity activity is the company's manager, He Qixin.
"He Qixin is a frequent visitor to my restaurant," said Li Hongyuan, the owner of "Tiantianjianmian", and recalled how the breakfast activity started.
More than three years ago, an old sanitary worker ordered a bowl of noodle in the restaurant and asked the owner to add more noodles as he wanted his appetite to be full. He Qixin, who was sitting nearby, heard the worker and when he spoke with the old man he learned that the worker got a salary of 900 yuan per month and was only able to eat three-yuan noodles twice a week.
He Qixin immediately contacted the city's sanitation department and promised to pay for sanitary workers' breakfast.
Born in a village of Gaoyou in 1966, He was raised in a not so well-off family of farmers.
After graduating from middle school, He was taken by his uncle to a factory to make coal balls. A whole day's hard work earned him 1.1 yuan. His earning was so meager that he hesitated to spend even 0.3 yuan on a meat dish in order to save the money for his family.
"My uncle used to call me to have dinner in his house as he was afraid that I would go hungry, although he had a family of five to support," said He.
In 1982, his village planned to set up a factory. The village leaders entrusted the mission to the 16-year-old He and raised 500 yuan for him. He asked his relative, who ran a cloth-making factory, for cooperation and successfully earned the first bucket of gold in his life.
"But for their trust in me, I will not have my day," said He, adding that he will support his benefactors for the rest of their lives. Now he lives up to his words.
Apart from providing breakfast, He has conducted many other charity activities which have gained him rewards from local to national level.
He donates 200,000 yuan in tuitions and living expenses to poor students every year, funded an academic building for a primary school and built a road and a bridge for another primary school in Sanduo township, constructed a nursing home for the elderly in Xiejia township, donated down jackets to those in need, etc.
He and his company have donated a total of 70 million yuan in cash and material in the past years.
"I remember the feeling of going hunger as a child and those who helped me during the difficult time," said He.
His good deeds affect others. As He constantly helped and spoke for the sanitary workers, the city government has improved benefits of workers, including increasing their salary to 1,900 yuan, said a head of the sanitary department.
The noodle restaurant "Tiantianjianmian", the earliest restaurant that participated in the breakfast activity, now receives 60 to 70 sanitary workers every day. Its owner Li Hongyuan voluntarily provides free soy milk to the workers. "I am moved by He's deeds and also want to do whatever I can," said Li.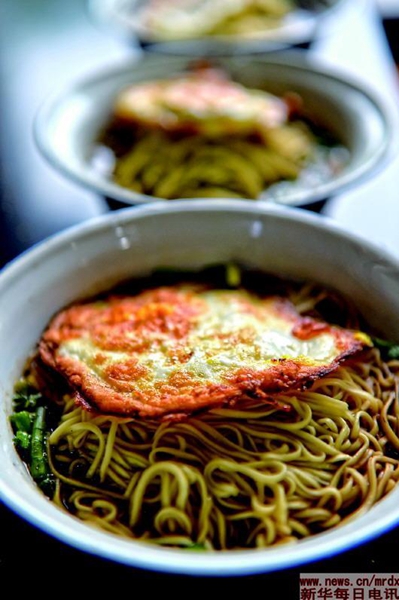 The breakfast includes a bowl of noodles and a fried egg. [Photo/Xinhua]