What other things overseas study can polish besides resume?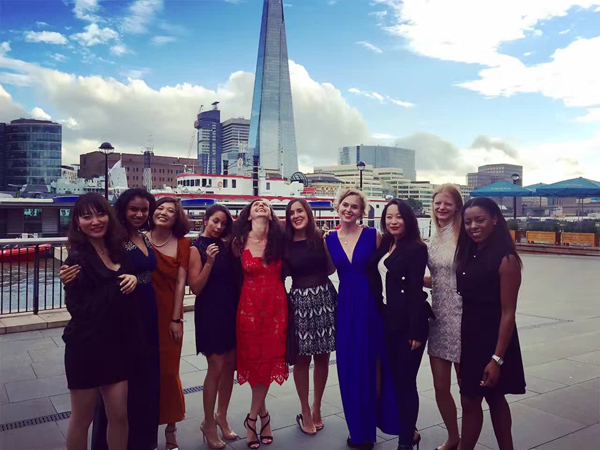 Gu Weiqi (third from right) and her schoolmates before the graduation activity of Thames boat cruise in London, UK, July 12, 2016. [Photo provided to chinadaily.com.cn]
China has seen an increasing number of students enrolled abroad heading home for career development. As part of new series, we are going to share stories of some overseas returnees. We take a look at why they are coming back, the challenges they face and what their expectations are.
In this part, we share their thoughts on advantages of studying abroad.
Two days after terrorists attacked Bangladesh capital Dhaka and took several hostages on July 1, 2016, Kailey Xi forwarded a post on WeChat Moment commemorating the two alumni of Emory University who died in the assault.
"As both Bangladeshi and Muslim, Faraaz (one of the hostages) refused to run for his own life and leave his friends alone, although the kidnappers offered him the chance…I think what we learnt from the prestigious university is not how far we can reach in academic studies or how much money we can make after graduation; rather we've got a sense of mission to change the world for a better place," she wrote in a long comment.
Kailey, whose high school and college years were all spent in the US, now works for a private equity firm in Beijing.
She shared the same view in an interview on overseas returnees' career pursuit by chinadaily.com.cn.
"Big or small, we are taught to make a difference," she said. "What's more, I think I have become more tolerant of differences."
"Inclusiveness" was one word that cropped up regularly when we asked those who have come back from abroad about how they benefitted from studying overseas.
"I met many excellent people of different background. For instance, a schoolmate who had been a military commander even shared with us what leadership meant during a dangerous battle," said Guo Qun, an MBA graduate from Northwest University.
She thought such experiences made her realize that there were so many things worth experiencing and exploring, which also helped her make clear that consulting was the one profession she would like to pursue.
Gu Weiqi, an MBA graduate who will work as a strategic manager at an American company in Shanghai, shares Guo's view and appreciates the "international exposure" to different industries, products and agendas.