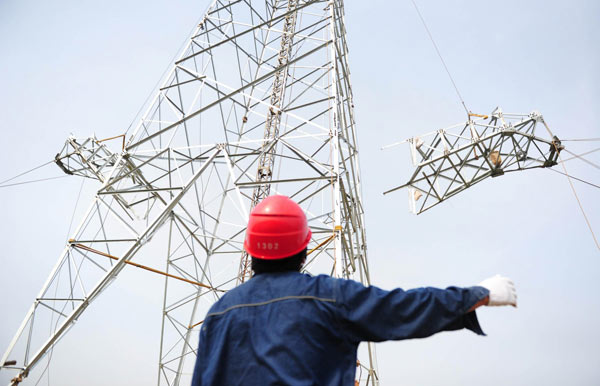 A technician monitors the installing of power transmission tower in Anqing, Anhui province, Oct 1, 2013. [Photo/Xinhua] 

WASHINGTON - China will continue to pursue reforms to improve the quality and efficiency of economic development, while maintaining macroeconomic stability, said China 's central bank deputy chief on Saturday.
"The Chinese economy maintained a solid growth pace. Real GDP grew by 7.6 percent on a year-on-year basis in the first half of 2013, within a reasonable growth range," said Yi Gang, deputy governor of the People's Bank of China, in a statement to the meeting of International Monetary and Financial Committee (IMFC), the policy-setting body of International Monetary Fund (IMF).
"The most recent economic data indicate that the Chinese economy will continue to grow at a steady pace in the near term and is on track to reach this year's growth target of 7.5 percent, " he continued.
Yi noted that conditions are in place for China to undertake further interest rate liberalization and capital account convertibility, and the Chinese authorities remain committed to exchange rate reform.
"Private sector participation in the economy will also be encouraged," he said, adding that the government is strongly determined to promote urbanization and strengthen social protection.
Yi also said while unconventional monetary policies helped stabilize growth and financial markets in advanced economies after major crises, more attention should be given to the risks associated with the prolonged use and disorderly exit of such policies.
He also urged the completion of the IMF 2010 quota and governance reform, calling on those countries which have not ratified the reform package to do so as soon as possible.
As substantial uncertainties remain in the global economic outlook, Yi said policymakers have to strengthen their efforts, particularly in setting comprehensive growth and reform strategies, in order to set the global economy on a path of strong, sustainable, and balanced growth.