Shocking but true!
Shanghai's newly opened Believe It or Not Museum offers a collection of oddities that are bound to entertain and amaze. Wu Ni in Shanghai reports that it is based on US cartoonist and explorer Robert Ripley's original idea.
Bored of life? Step into the shockingly odd world of the Believe It or Not Museum, which has newly opened in Shanghai and thrill at the more than 200 exotic exhibits collected from all over the world.
US cartoonist and explorer Robert Ripley (1890-1949), creator of the Believe It or Not brand, displayed his first collection of oddities at the Chicago World's Fair in 1933, filling the exhibition hall with hundreds of genuine artifacts he had gathered from his travels to more than 200 countries.
The exotic treasures Ripley collected over the decades are now stored in dozens of Believe It or Not museums worldwide.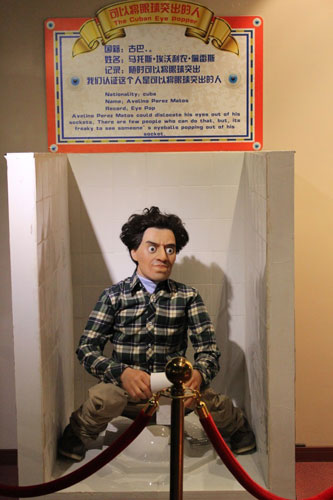 A waxwork of a Cuban man who can pop his eyes out of his sockets. Photo provided to China Daily
However, the new museum in Shanghai does not house the original treasure of Ripley but lends its concept - to present amazing, ludicrously strange things to visitors, according to Wu Wentao, manager of the museum.
"We display shocking but amusing interactive exhibits, which are intended to make you scared first, but laugh after experiencing it," Wu says, adding that the museum is a collaborative project with the Believe It or Not Museum in Chejudo of South Korea.
The approximately 1,000-square-meter museum is divided into six zones. The deeper you walk into the labyrinth-like space, the more interesting things you will find.
One part is to challenge the world records: a waxwork of the world's biggest mouth - 17 cm, wide enough to swallow a 330 ml can; a picture of world's most flexible tongue that can be twisted into the shape of a flower; a video of the man who can blink 370 times in one minute, to name just a few. Believe it or not!
To challenge these records, you can measure the length of your mouth beside the waxwork, twist your tongue in a mirror, or use a timer to test how many times you can blink in a minute. But take care, the weird facial expressions you make will be reflected through the mirror and amuse other visitors.
Another aspect of the exhibition is the eye-catching world of illusion that creates amazing visual effects with tricks and gadgets. Watch carefully the canvas of a boy playing the flute and you can see the boy's fingers moving - the painting is actually a combination of a real canvas and a LED screen.
Standing in front of another painting of Albert Einstein, you may be confused when you step back a few meters and it is Marilyn Monroe in the painting. Then there are some bizarre people, items and customs from around the world on show, such as a hairy fish, a 43-cm-tall man living in a cage, and a man with three legs.
At the exit there are two rooms where you can test the loudness of your voice, as monitors mark the decibel levels of your shout on a screen - to see whether you can rival the world's loudest voice of 129 decibels.
If you break any of the records, the museum will present you with a secret gift, which none of the visitors have achieved so far, Wu says.
Yao Bing, 29, a tourist from Beijing, says that the exhibition is amazing. "There are plenty of freakish items. I am shocked, happy and marveling," he says. "A visit is a good way of relieving stress."