Cross-border reserve to protect leopards
China and Russia will establish a cross-border Amur leopard reserve this year, the Jilin Province Forestry Department said on Saturday.
The department is engaged in discussions with the Land of Leopard National Park in Primorsky Territory of Russia on a cooperative agreement to protect the big cat.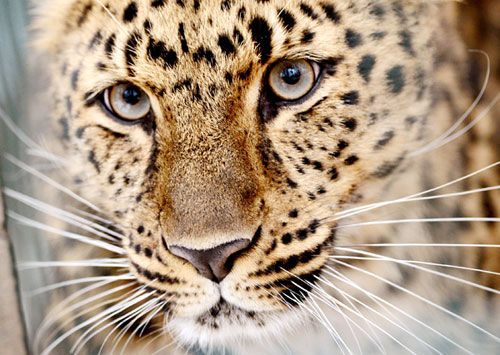 Amur leopard looks through the bars of its enclosure at a zoo in Leipzig, Germany, on Wednesday. Hendrik Schmidt / AP
"If everything goes smoothly, we suggest signing an agreement with the park in June," said Jiang Jinsong, a provincial forestry department official.
"We hope to promote the cooperation as soon as possible," said Alyona Salmanova, head of the science department at Land of Leopard National Park. The park will draft the agreement.
The Amur leopard, which lives in the border area of China, Russia and the Korean Peninsula, is a subspecies of the Panthera genus. According to the World Wide Fund for Nature, the Amur leopard population has dwindled to around 50, making it one of the world's most endangered species.
According to RIA Novosti, Land of Leopard National Park was set up early in 2012 at the order of Russian President Vladimir Putin. The park, bordering Hunchun in Jilin province, is one of the migration routes for Siberian tigers and Amur leopards.
China and Russia have been exploring ways to protect the wild cats in recent years. The current focus is on setting up joint monitoring, information sharing and personnel exchanges between Russia's Primorsky Territory and China's Heilongjiang and Jilin provinces.
Zhu Jiang, head of the Northeast China office of the WWF, spoke highly of joint Sino-Russian wildlife protection efforts. Zhu said the WWF will fully support the cross-border Amur leopard reserve.
"Our cooperation is expanding from the protection of Siberian tigers to Amur leopards, which means the cooperation is deepening," said Jiang Guangshun, deputy head of the Feline Research Center of the State Forestry Administration.
Liu Ce in Shenyang contributed to this story.
Anwuyong@chinadaily.com.cn