Panda pair arrive in Canada
Two giant pandas left Chengdu, capital of Sichuan province, for Canada on Monday.
Da Mao, a 4-year-old male from the Chengdu Research Base of Giant Panda Breeding in Sichuan, and Er Shun, a 5-year-old female from Chongqing Zoo, will stay in Canada for 10 years under a conservation agreement between the two countries.
"The duo will spend five years at Toronto Zoo followed immediately by another five years at Calgary Zoo," said Zhang Zhihe, chief of the Chengdu panda base.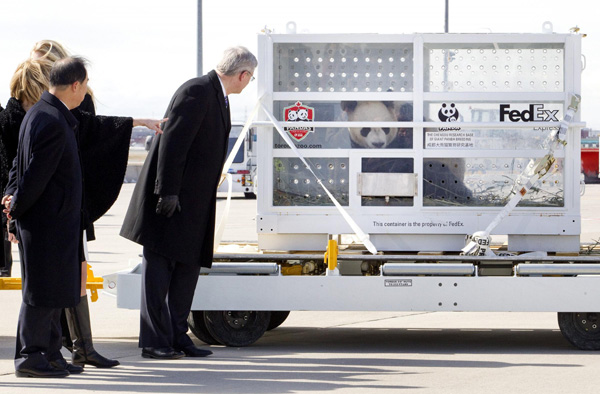 Canadian Prime Minister Stephen Harper (R), his wife Laureen, and Zhang Junsai, Ambassador of China to Canada, look at one of two Panda bears that arrived at Pearson International airport in Toronto March 25, 2013. The two bears are on loan to Canada from China for 10 years. [Photo/Agencies]
Zhang said visitors to Toronto Zoo will be able to see the two pandas after a monthlong quarantine.
"The program will allow the Toronto and Calgary zoos to contribute to ongoing international efforts to increase the population of endangered giant pandas. Currently, fewer than 2,000 pandas remain in the wild," he said.
Toronto and Calgary have waited for about 20 years to see pandas at their zoos again.
The Chinese tradition of sending the animals overseas dates to when the Empress Wu Zetian gave pandas to the Japanese emperor in 658.
On three occasions in the 1980s, Toronto, Calgary and Winnipeg zoos hosted Chinese pandas for short-term visits.
"Qing Qing and Quan Quan's 100-day stay in Toronto in 1985 drew hundreds of thousands of visitors. On the first two days, there were 35,000," Zhang said.
Oliver Claffey was one of the keepers who looked after the pandas in Toronto in 1985. He thinks this visit will be even more successful than the first one because the pandas will be in the zoo for five years.
"This time, it's a long-term loan and I suspect that with the knowledge and staff we have at Toronto Zoo, the pandas will breed and that's the idea," he told the Canadian Broadcasting Corporation.