YEKATERINBURG, Russia: China will provide additional aid to help the Pakistani government settle civilians rendered homeless in the country's recent battle with terrorists.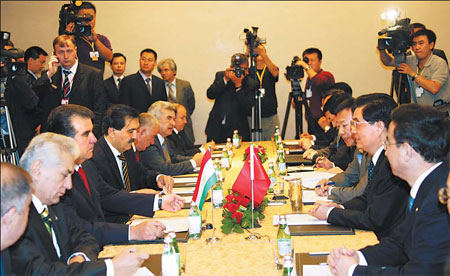 President Hu Jintao (second from right) converses with his Tajik counterpart Emomali Rakhmon (third from left) in Yekaterinburg, Russia, Monday. Shanghai Cooperation Organization leaders are expected to sign a slew of agreements today. [Qi Bin/China Daily
] 

Ahead of talks at the Shanghai Cooperation Organization (SCO), President Hu Jintao told his Pakistani counterpart Asif Ali Zardari that China would provide Pakistan with an additional 60 million yuan ($8.82 million).
China has already offered $1 million dollars in cash as well as 30 million yuan in humanitarian aid to Pakistan to help with the relocation of civilians displaced in recent months as the Pakistani army and police continue to fight terrorists and extremists.
Hu and Zardari are in Yekaterinburg to attend the SCO summit. Pakistan is an observer nation.
China is willing to help the Pakistani government tackle its current challenges and maintain social stability, Hu said.
China appreciates Pakistan's support on issues concerning China's national security and interests and is willing to work with the international community in tackling the threat and challenges of terrorism, Hu said.
The China-Pakistan friendship will grow more solid regardless of how international or domestic situations evolve, Hu said.
Zardari agreed with Hu's comments on bilateral ties and said Pakistan highly valued its friendly relationship with China.
The Pakistani government attaches great importance to Chinese concerns and remains firmly opposed to terrorism, Zardari said. It is ready to strengthen cooperation with all parties in reducing regional security threats and safeguard regional peace and stability, Zardari said.
Also Monday, Hu held talks with Tajik President Emomali Rakhmon, Uzbekistani President Islam Karimov, Kyrgyz President Kurmanbek Bakiyev and Indian Prime Minister Manmohan Singh on the sidelines of the SCO summit to compare notes on how to improve bilateral relations.
During the talks, Hu stressed that countries should join hands to tide over the tough times.
China Daily - Xinhua